looking for a certain gladiolus
Gardening Reference » Gardening in 2006
by fairierose on July 16, 2006 05:12 PM
I am looking for a gladiolus that is a peach with a little yellow and an edge of orange with a purple stamen. I have been searching books and the internet but haven't found it. The blooms were in a funeral arrangement for my mother (her favorite colors were orange and yellow). I would love to purchase some bulbs for my garden next summer. Anyone know what the name might be or where I can search? Thanks

by netwiz on July 17, 2006 01:24 AM
Hi fairierose,
Is
this
the one? It is the only one I recall being similar to your description.
Joanne
by jonni13 on July 17, 2006 02:57 AM
These two are closest to your description that I have. No purple stamens though.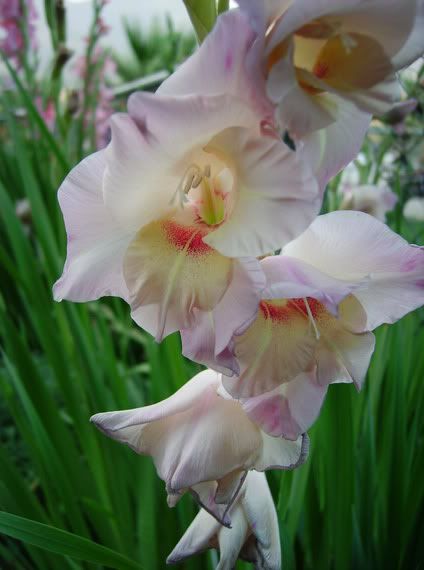 * * * *
~Tina


Getting old is the pits. But it sure beats the alternative.
My Blog
by fairierose on July 17, 2006 07:28 AM
The 2 peachy ones are close but not quite the same. I'll keep on file though because they are certainly beautiful.

by tkhooper on July 17, 2006 08:55 AM
I was just thinking the same thing. They sure are pretty. I don't have an answer to your question either fairierose. I just thought I would stop in since I have a few glads so I'm always interested in the topic.
* * * *


by njoynit on July 18, 2006 03:42 AM
Have you thought to check with the florist who had the arrangement done?I have a friend in IN who works as a florist&He ID'd a flower for my mom that was in an arrangement,but he also was able to supply her with a supplier who sold the flower.(it was a lilly& escart? escart was the foliage plant)Your glad sounds pretty though.i like the multi-colored ones.Maybe do a google for bi-color glads web& images search.pinetreeseeds.com has some bi-color glads,but actually list more in their book than online.here is bloomingbulb.coms page...........
http://www.bloomingbulb.com/XQ/ASP/Category.4/QX/CartBulbs.htm
with bloomingbulb you may be able to take a picture of what your searching and they may know more.good luck!
* * * *


I will age ungracefully until I become an old woman in a small garden..doing whatever the Hell I want!
http://community.webshots.com/user/njoynit03
http://community.webshots.com/user/njoynit
http://photos.yahoo.com/njoynit03
by Greg46815 on October 14, 2006 03:24 AM
I think I have one of the peach, orange, & yellow gladiolus you want. I do not yet know what the name is, but will try to find out and let you know. I have several large pictures of it, if you want to follow the links to see it better. I'm attaching a smaller image, but I think it's large enough for you to see it's the one you want. Feel free to email me if you want to inquire directly.
by Greg46815 on October 14, 2006 03:26 AM
by nmlAlba-dC15 on October 14, 2006 07:27 AM
Hi Greg46815...
Welcome to da foum...u'll love being in this forum... a bunch of lovely, friendly people we r!!
Beautiful glad.... mine r just leaves n no blooms at all yet... bulbs were sent by a kind friend in Texas... have only grown it for about 2 months probably....
it's called Rose Supreme...
Have a nice day...
* * * *

i believe that somewhere in da darkest night...a candle glows,
i believe for every drop of rain that falls...a flower grows....
by penny in ontario on October 14, 2006 08:09 AM
Search The Garden Helper: