All that's left...
Gardening Reference » Gardening in 2004
by Meg on August 03, 2004 07:48 PM
of my "pansies"..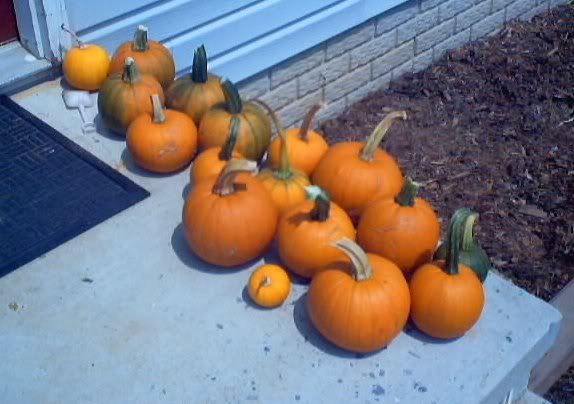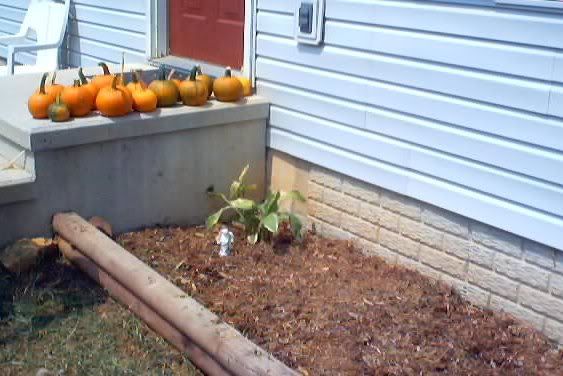 I just threw away all the dead stuff, including a few pumpkins that had wormy looking guys crawling out of their stems. *eeeewwww* Kinda sad about 2 of em, they were nice looking, dangit. I am not sure if all these are ok yet.. giving them a day or so to see if any more buggies emerge. *blech*
I am now totally drenched in sweat, and totally late for work!

Later!
Meg
* * * *


I reject your reality, and substitue my own!
My favorite digital camera photos that I took.
My family, garden, and a bunch of misc. photos!
by Meg on August 04, 2004 04:03 AM
Ok, so the seeds live on.

My kid's friends, took a couple seeds way back in the spring, when they found them in my front yard from the dead pumpkin that started my madness. So, my friend tells me yesterday, that they have a pumpkin in thier backyard, starting to turn orange. Nice size too. Hmm.. I tell her, thank the Hovey girls, and laugh. So, they hadn't known thier kids planted 3 seeds.. and they never did a thing to them. They are actually IN the drainage ditch for our entire circle, where it all ends up going at the end. So, they get LOTS of water sometimes..lol. Well, you can see how my pumpkins did in the above post. Small.. like the one that my daughter brought home. I figured, that was likely thier "size". HOWEVER, as you can see from the picture below.. I guess my pumpkins were too many on the vine or something. They have only ONE pumpkin that grew on this big vine.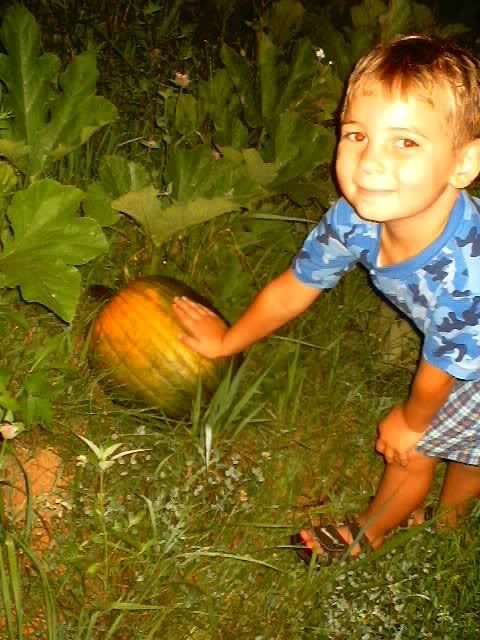 This one is in the back, near the "end" of the drainage ditch.
Now, there are 2 fairly new vines starting in different parts of the ditch where they planted the other 2 seeds. One I saw had one flower on it, and the other small vine had 2 flowers on it. It's kinda dark when I took these, but this is the best pic I could get.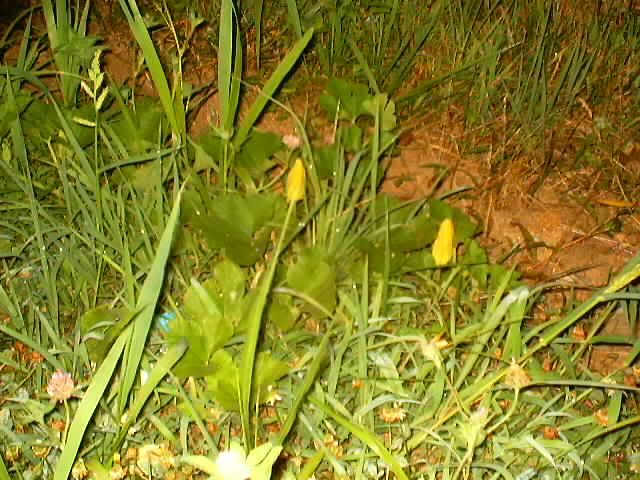 This is near the front of the ditch. It's kinda funny to me.
So, I'm just truly a bad gardener. My pumpkins that I tried to take care of once I found out what they were, did worse than the one that my friend's have from the same seeds as mine.. and they didn't even know they had it growing.


Meg
* * * *


I reject your reality, and substitue my own!
My favorite digital camera photos that I took.
My family, garden, and a bunch of misc. photos!
by Pineapple_Raye on August 04, 2004 01:01 PM
Meg if I remember correctly you had a mildew on your. So they got lucky and did not....

Next time you will be ready!
by gardenmom32210 on August 04, 2004 01:48 PM
Lets see.....I counted 16 pumpkins! I think you did really great and they are so cute

Are you planning on doing some baking with them? Mmmmm,pumpkin muffins,pumpkin pie,sounds good to me.
GREAT job Meg!!!!

Karen

by weezie13 on August 07, 2004 07:02 PM
Meg, those are sooooooooo cute!!
I got my punkin's in really late,
so I doubt if I"ll even get one,
so I'm happy for you to get lot's of little ones.
And you'll find you'll be very much in love
with all the little ones come Halloween...
You'll be able to group some here and some there.
Some by your mailbox or some on the porch.
Have lot's of fun with them and send us pictures.
And remember next year all the do's and don'ts and I'll be you'll have a great crop of punkins!
Weezie
* * * *
Weezie
Don't forget to be kind to strangers. For some who have
done this have entertained angels without realizing it.
- Bible - Hebrews 13:2



http://photobucket.com/albums/y250/weezie13/
Search The Garden Helper: