Rhipsalidopsis ???
Gardening Reference » Gardening in 2005
by JuuNi_San on November 14, 2005 11:22 PM
Hi, I recieved a plant from my mother a couple of years ago, and the card says "Rhipsalidopsis" however the picture shows a much darker red flower then what I get which I've added below, it seems to bloom every year around this time, and I was wondering if there was any more information it that you guys could add as the card has nothing

thanks in advance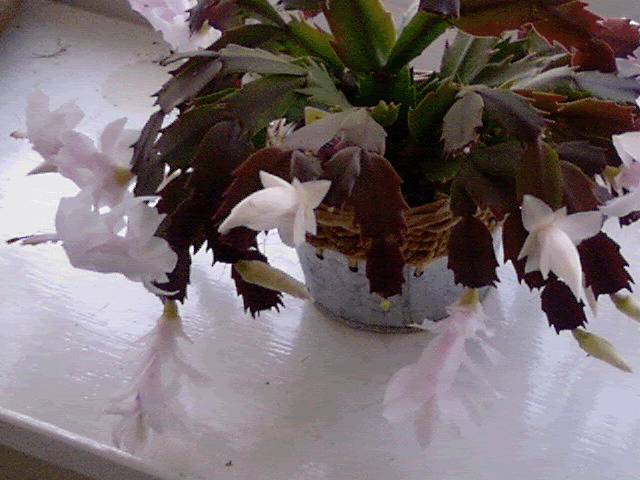 by weezie13 on November 14, 2005 11:48 PM
Looks to me like a white Christmas Cactus????
Hey, Welcome too by the way to The Garden Helper's Forum, we're very glad you found us..
There's a great bunch of folks here, lot's to do and keep you very busy, and we have a few members from England also, hope you join our Cyber Family here...
* * * *
Weezie
Don't forget to be kind to strangers. For some who have
done this have entertained angels without realizing it.
- Bible - Hebrews 13:2



http://photobucket.com/albums/y250/weezie13/
by Jiffymouse on November 15, 2005 01:59 AM
yep, you got one of the so-called "zygo type cacti" although, they aren't cacti at all, and they aren't called zygos anymore, but i can't remember the "real" name. there are two or three main categories, and a zillion divisions, but basically, there are 3 groups, the fall blooming ones (yours)~ commonly called thanksgiving cacti, the winter blooming ones ~ commonly called christmas cacti, and the spring blooming ones ~ commonly called easter cacti.

the beauty of these plants is that the are succulent in nature (retain water easily and don't need watered too often), and they are very easy to propogate from cuttings. just break or cut a section off, and you have a new plant in very little time!

by the way, yours is beautiful, and white ones are hard to find around here!
Similar discussions:
Search The Garden Helper: