The Bird Bath
Willy's Place » Wallpaper of the Day
by Bill on December 04, 2003 02:03 PM
This past summer I was able to enjoy this family of birds for about a week. I'm not sure why, but these two
Evening Grosbeaks
seemed to have adopted the young
Black Headed Grosbeak
, and spent their time feeding it and caring for it!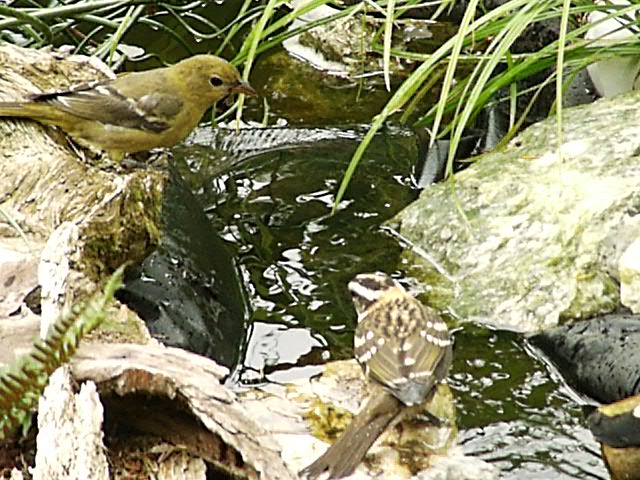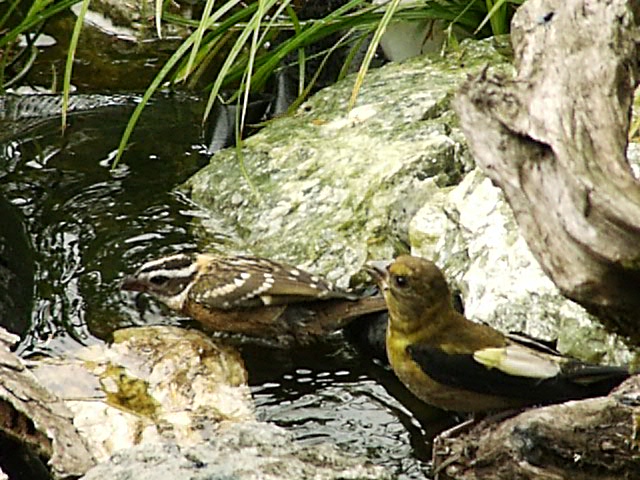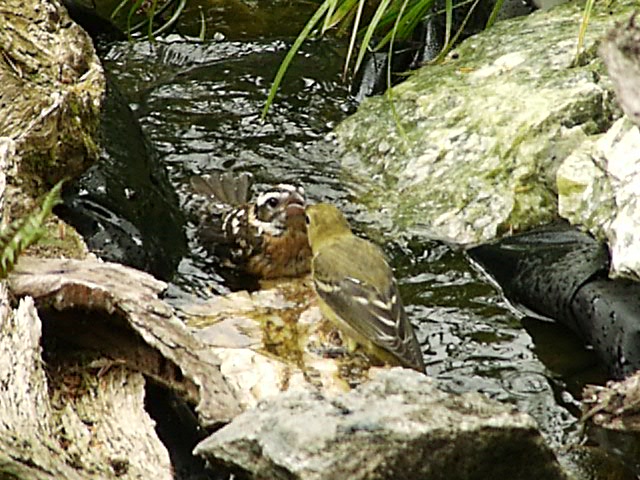 These are Cedar Hill birds!
* * * *

by Jillie on December 04, 2003 03:22 PM
Awwe, Bill, that's the cutest! Good shots!

* * * *


by weezie13 on December 04, 2003 04:37 PM
I wished I would have had my camera
with me the other morning on the way
home from school.....
I saw about 25 little black birds
(not sure what kind!!)
taking a bath in a big puddle at
the end of a driveway.....
It was sooooooooooooooo cute.
I sat there for a few minutes on the road
watching them, until a car came up behind
me and we had to go, and of course they
all flew away, but my little one got such
a kick out of it....

Weezie
Thnaks for the pictures Bill!!!!
* * * *
Weezie
Don't forget to be kind to strangers. For some who have
done this have entertained angels without realizing it.
- Bible - Hebrews 13:2



http://photobucket.com/albums/y250/weezie13/
by catlover on December 04, 2003 05:37 PM
That is just fasinating!
Love the bird bath.....how did you move all those rocks....a few are big!!!!!

* * * *



by loz on December 04, 2003 07:10 PM
They're such great pictures....I just love watching all the little birdies down in my yard....I put out some birdseed yesterday and my yard had about 50 birds in it.....Someone has to feed them around here....

by jc2weho on December 06, 2003 01:31 AM
Hi loz,
What types of birds come out for you when you feed them?
jcweho

* * * *

by loz on December 06, 2003 06:34 AM
Hi!!

Usually just sparrows, and robins, and some cardinals, and blue jays....I just love watching them all though....over the summer my husband even got into watching them with me.....Every day when they'd show up I'd tell him that my birds were back....lol I feel good knowing that they are getting food...

by Jillie on December 06, 2003 04:47 PM
Cardinals? You have cardinals? I've never seen one in person. Major shortage here, in So Cal. That's the greatest!

* * * *


by worldly on January 02, 2004 08:51 AM

* * * *
WORLDLYMOMOF4
Search The Garden Helper: