Sedums as Houseplants
Gardening Reference » Gardening in 2005
by Laura Sue on October 17, 2005 04:24 AM
I have some sedums outside in planters. I'm worried about the roots freezeing or getting shocked in the pots outside. I'd like to keep them through the season.
Can I bring them in? If so do I need to keep them in a cooler area or bring them in gradually?
We've already had a night or two of frost and they've been fine. I'm more worried about the deep freeze that will inevitably come soon to MT.
by Will Creed on October 17, 2005 04:45 AM
Hi Laura Sue,

Most Sedums are quite cold tolerant. When planted in the ground they will all withstand temps below freezing. Some are even hardy in Zone 4 or 30 degrees below 0 F. However, potted plants don't have the same amount of insulation as those planted in the ground, so that is a factor.

Most Sedums can be overwintered indoors. Try to keep them in a cool place. Bringing them in gradually is not necessary.
by cinta on October 17, 2005 06:49 AM
Do you have a pic. I agree with Will if they are the hardy Sedum put them in a cool area. I tried to winter over some hardy Sedum last year and they did not like it.
I think sedums are like any other plant if it is meant to be outside in the cold it will decline in the warm house. If it is a tropical plant and you leave it out in the snow it will do the same thing a winter hardy plant will do "die".
I beleive give the plant the right gowing conditions.
* * * *
http://www.flickr.com/photos/audwoman/
If you want the rainbow you have to put up with the rain!!
by comfrey on October 17, 2005 11:22 AM
I had one don't know the kind it is that I kept in the house for 2 years in a pot...it finally looked really bad and I thought it was dead so I set the pot out on the porch to get rid of it...but to my surprise it came back just fine, and I leave mine in the pot outdoors in the winter, but I am in zone 7b, so colder areas I would bring the pot in for the winter. Here's a picture of mine: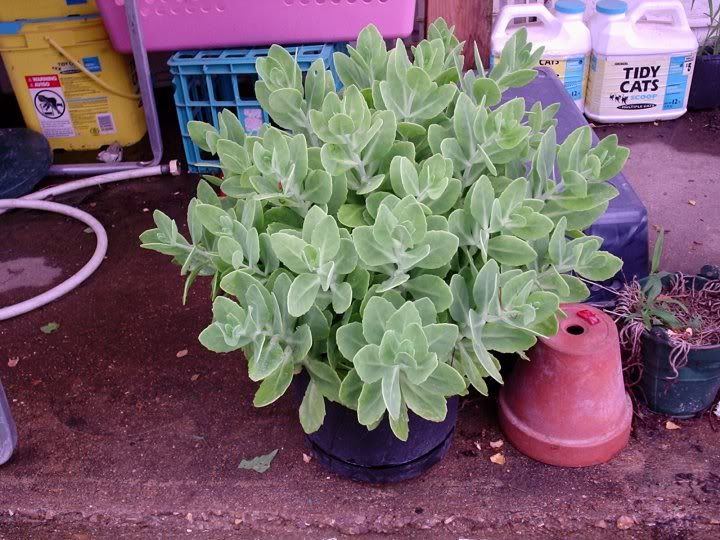 * * * *


by Will Creed on October 18, 2005 07:51 AM
Comfrey,

That looks like it might beb a Sedum spectabile or Ice Plant. If so, it is hardy in Zone 5.
by comfrey on October 18, 2005 11:37 AM
Well The only name I know it by is a Never Die or Live For Ever plant...It has very small purple flowers that are in a cluster and blooms in the fall, I don't have a picture of it blooming as the kittens thought it was a good place to play hide and seek...So I have about a half a dozen starts rooted in water on the window seal....I really would like to know exactly what the official name is for it, But have never been able to locate a picture that was just like this one.
* * * *


by Will Creed on October 19, 2005 04:44 AM
Sedum spectabile has rosy red or red flowers. Sedum telephium has red-purple flowers. But there are also lots of hybrids with different flower colors.

Do a google image search under those names and see if they match yours.
by comfrey on October 20, 2005 02:16 AM
I did do a search recently trying to find something simular, and the Sedum telephium was as close as I could get, but still is has alittle different leaf shape.
* * * *


by Will Creed on October 20, 2005 08:59 AM
Don't fret. Sedum is a pretty large genus with lots of species. To make things worse, you may have a hybrid version of Sedum telephium, which doesn't matter much to anyone other than growers and botanists.
Search The Garden Helper: