Episode #15... Home Improvement
Willy's Place » The Further Misadventures of Wild Willy
by Wild Willy on June 20, 2004 06:33 PM

Episode #15... Home Improvement
A word of warning to anyone who has considered building their own Hummingbird House...
Such structures can have a strange addictive power over you! It all starts out with enjoying your morning coffee as the sun rises and the birds sing. Suddenly, you'll find yourself taking "short" breaks to enjoy the flowers and the Hummingbirds in your Living Room...
That is where the trouble begins, because it's really hard to go back to work afterward...
Sometimes you end up spending hours in there, especially when other forest critters join you. A few days ago, a young doe wandered in as I sat there, but when she noticed me sitting there, she decided to wander back out... but she spent 15 minutes grazing on the lawn a few feet away!
To make matters worse, you'll start to notice little imperfections that need fixing, places for new plants, and new additions you'd like to make....
The log bench on the west side was only functional if you wanted to sit completely upright,
and it wasn't very comfortable....
I did a little digging under the bench supports to allow the seat to lean at a slight angle, then I found the
perfect
log to use as a back rest. It took a bit of pondering to figure out how to appropriately support the 800 pound back rest, but I finally decided to cut a notch
(to stabilize the log)
into an old stump that I found nearby , moved it into place and somehow managed to raise the 12 foot log into position and get everything set at just the right angles.....
With the new changes, four people can now lean back and comfortably enjoy the views!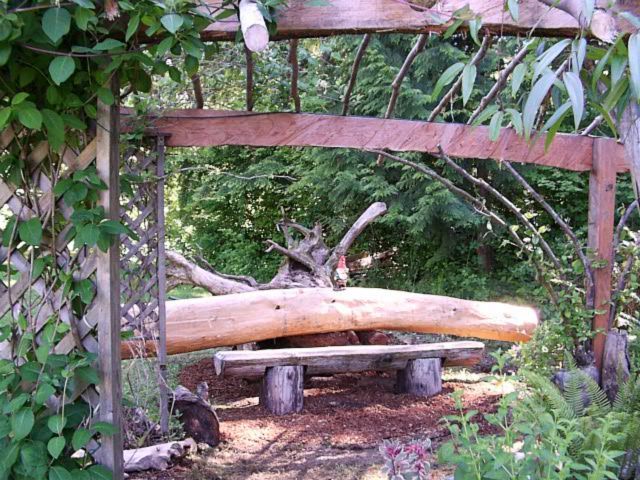 I liked the entry area, but it lacked
something....
I added a couple more burls, plants, and pieces of wood.
On the left side, I used a contorted piece of root as a trellis for one of my Passion Flowers and I planted Cardinal Flowers in the front, on each side.
It still wasn't
quite right,
so I decided that a small flagstone floor would be a nice addition.
I dug down a few inches, added a sand base and set an assortment of flat rocks in place. Because of the irregular shapes of the rocks, each stone required removing or adding sand beneath it until the rock was seated and solidly in place.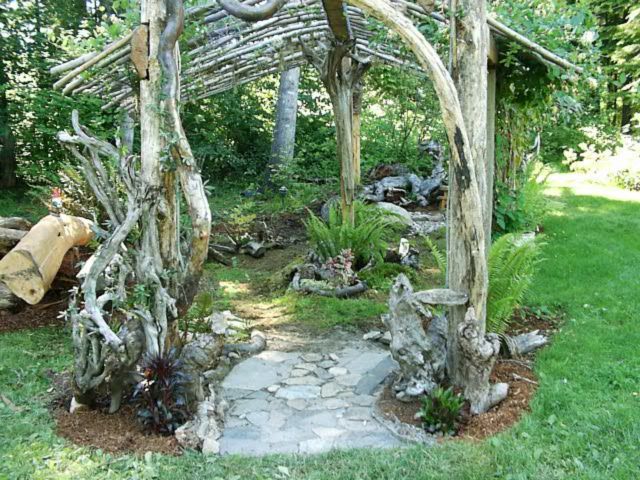 To give the structure a more "homey" feeling, I created a couple Cedar planters for Fuchsias.....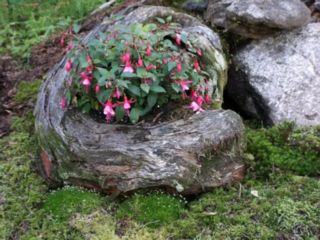 At the rear of the Hummer House, I originally had a Cedar log which was roughly cut to create a bench. It was functional, but certainly not comfortable...
I removed the log and turned it into fence posts,
which in essence removed the back perimeter of the house and left a rotting stump in it's place.
With a pick, shovel and saw I removed much of the rotted wood and created an elevated seating area which allows me to sit 30 inches higher than before and gave a new view of the entire room...
Once I added some hand crafted furniture and a little stone work, this area became a much nicer place to sit!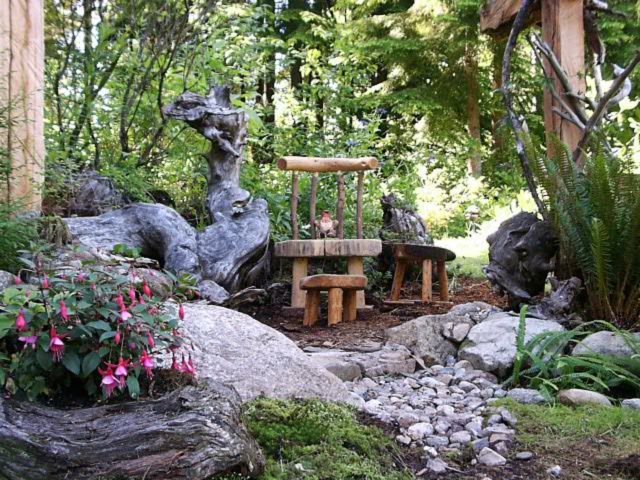 What's next????? A water feature perhaps? Wind chimes?
If I keep this obsession up, I'll probably be living in my Hummingbird House by the end of the summer, but I doubt that you'll hear any complaining if I do!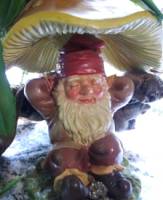 by loz on June 21, 2004 12:41 AM
Wonderful!!! Wish I were sitting there on that bench.....Water feature would be great......and if you are going to do windchimes I'd do bamboo ones so they blend in with the natural feel of your room......Very nice improvements.....


by afgreyparrot on June 21, 2004 04:57 AM
* * * *



Buckle up! It makes it harder for the aliens to suck you out of your car!
by Nako on June 22, 2004 04:15 AM
omg bill! I love your place, and ideas! I wish i had the time and effort to do half of the stuff that you do around your place!
* * * *
Nako's Webshots!


by Sami on June 22, 2004 11:34 PM
Wow! Your place is great!
* * * *

Talentless but connected.
by Nako on June 23, 2004 08:38 AM
Its so cool how you incorporate nature into nature so that things just look completely natural, but are quite useful to everyone

I love the pots made out of trees, and the benches!
* * * *
Nako's Webshots!


by gardenmom32210 on June 24, 2004 03:20 AM


WOW


Karen

by LF from MC on June 30, 2004 03:19 AM
It amazes me Bill, everytime I stop in here, and see what you've done to your place, it's just beautiful


by eyesoftexas on July 07, 2004 09:46 PM


Simply amazing and awesome the way you are one with nature...........lovely and serene!!

* * * *
Love is the fairest flower in God's Garden!
"eyes"
by Meg on July 08, 2004 02:09 PM
That is really beautiful. Yes, you could sit for a long time, just taking it all in.

Meg
* * * *


I reject your reality, and substitue my own!
My favorite digital camera photos that I took.
My family, garden, and a bunch of misc. photos!
by Chrissy on July 20, 2004 05:49 PM
Hey Bill...you need to come to my house & build me a garden room like that!! That would be such a great escape from the kids..the hubby...the dog...yep, I definitly need you to come build me a room Bill lol

Chrissy
* * * *

z5b
by catlover on July 21, 2004 09:46 PM
Wild Willy

....I just don't know how you keep coming up with such awesome ideas for the hummer house.....FANTASTIC....as someone said previously....so serene!
You will have no choice but to live in the hummer house if you keep taking all your homemade furniture out there!!!

Hmmmm...

hammock????? water source??? fire pit???? outhouse????


* * * *



by Triss on August 24, 2004 08:40 PM
After browsing the site and reading this one page, I had to go back and read all of the 15 episodes and was entranced. Your property and all you have done with it has created a magical wonderland of beauty that has me more relaxed than I have felt in ages. I was able to completely imagine myself sitting there with a cup of morning coffee and sharing the space with nature. Spectacular!
Triss
* * * *


We are all under the same stars... therefore we are never far apart.
by Sue Z on March 09, 2005 07:52 PM
We can all be thankful that just as miracles will never cease, nor will the sharing of your mahvalus' creations with us, Bill.

Thank you.
Sue z
LOVES wind chimes!!!


* * * *

"WHEN IN DOUBT ... DON'T"
by afgreyparrot on July 28, 2005 01:10 AM
Thanks for fixing the pictures for us, Bill!
* * * *



Buckle up! It makes it harder for the aliens to suck you out of your car!
Search The Garden Helper: