Flowers to plant
Gardening Reference » Gardening in 2006
by firsttimer on May 11, 2006 04:42 AM
by Stuspot on May 11, 2006 08:22 AM
Firsttimer, I am also in SD.

But I am pretty much in zone 3.
Are you looking for annuals or perennials?
by Mrs.Spud on May 11, 2006 09:17 AM
how about pflox?

* * * *
Mrs.Spud: Idaho Mom

by tkhooper on May 12, 2006 02:16 AM
Well I know that if you want spring and fall with a pink color you can do snapdragons, Hollyhocks also come in a variety of pinks and bloom during the summer. But they are biennial so they only do foliage the first year and then flower the second year and then die. So you need to plant two years in succession. After that they will reseed by them selves to keep their beds full of flowers.
And of course there are subzero roses that come in pink which will definitely give you color all through the late spring to early fall.
Good luck with your garden.
* * * *


by RugbyHukr on May 12, 2006 03:04 AM
petunias or impatiens or begonias should do the job
* * * *

I love the sweet scents wafting in the breeze. I stop to admire the vibrant colors of all living things. And people think me odd. Then ODD I am!!!
http://community.webshots.com/user/flugnash
by Pianolady on May 12, 2006 03:35 PM
If you see a minirose shrub called "The Fairy", it blooms and blooms all summer. I deadhead it like a tea rose, and it reblooms until it freezes. Is hardy in our zone, haven't lost one yet! Just prune the dead & damaged wood out each spring. I cut it back each spring, or it goes crazy.
* * * *
by patches1414 on May 12, 2006 04:12 PM
I love the "Nearly Wild Rose" and it's in the lower left corner of the picture. I have several of these around my yard.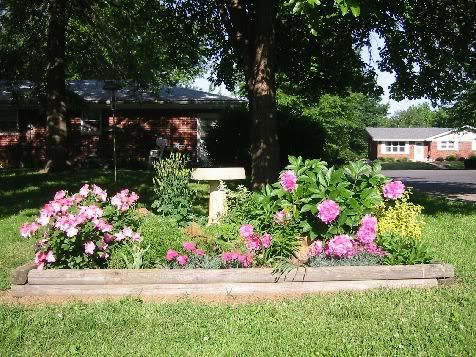 Some other pink favorites of mine are the "Bright Eyes" Phlox; "Pink Flame" Phlox; "Fire Witch" Dianthus (center bottom of the picture); "Lady Baltimore" Hibiscus; "Copper King" Hibiscus; Primrose; and some of the pink hardy Geraniums.
* * * *


"Lord, I love you and I need you, come into my heart, and bless me, my family, my home, and my friends, in Jesus' name. Amen!"
Similar discussions:
Search The Garden Helper: