Rose bush care
Gardening Reference » Gardening in 2006
by Tonya on May 08, 2006 04:15 AM
I am fairly new to gardening and am not sure how to care for a miniature "Fiesty" rose bush I bought yesterday. I intend to plant it in my yard in full sun and follow the care instructions, but I have very sandy soil and am not sure if I need to mix in anything special with the soil when I plant or what I should do. I live in Coastal North Carolina(zone 8 I think??).

Any advice is appreciated!
* * * *


Bote and Babe's World
by tkhooper on May 08, 2006 05:09 AM
Well they like epsom salts that part I know. I'd send you some of my clay for some of your sand if mailing heavy stuff wasn't so expensive. Barring that I would say add a bunch of compost to the sandy soil you have in that area. Bone meal in the bottom of the hole you dig when you plant it is good too. Good luck with your rose. I love roses.
* * * *


by Tonya on May 08, 2006 07:11 AM
What do I do with the epsom salts? Sprinkle in the soil when planting? My mom had beautiful roses when I was growing up, but that is in Tn...I need to go visit and fill the trunk with her dirt! I could tolerate some clay...all this sand get's annoying! Thanks for the help!
* * * *


Bote and Babe's World
by tkhooper on May 08, 2006 08:48 AM
Here is a link to a great explanation on how to use epsom salt.
Epsom salt
I know what you mean by getting a little tired of soil that isn't in good shape. I'm slowly building good soil on top of my clay but this year something went very wrong with my bottom tier and nothing is really growing well there. But it will get better with time.
I look forward to seeing your pictures of the fiesta rose. Is that one of the red ones? And is it a shrub, climbing, tea or hardy rose? Or a miniature? That's what I have is miniatures. I hope to get a bunch of colors of them over time but for right now I just have one type of miniature red rose and I love it. It is about to flower and I can't wait of course lol.
* * * *


by Tonya on May 08, 2006 09:38 AM
Thanks for the link! I never knew Epsom Salt could be used for that! In order for me to have good soil I would have to have a truck-load of topsoil brought in...all I have is sand! I will try to get pictures of the blooms on the bush tomorrow. From what the papers on it said- it is a bush with climbing tendencies, but it is a miniature...I don't know!

I just LOVE roses...they just make me feel happy to look at them!

* * * *


Bote and Babe's World
by Budman on May 09, 2006 06:26 AM
I sure learn something new every time I log onto this site!! I had no idea that Epsom Salt was beneficial to plants. I always thought that salt in general was a bad thing for most plants. How many other Gardeners regularly use this product?
by Tonya on May 10, 2006 01:39 AM
here is my rose bush....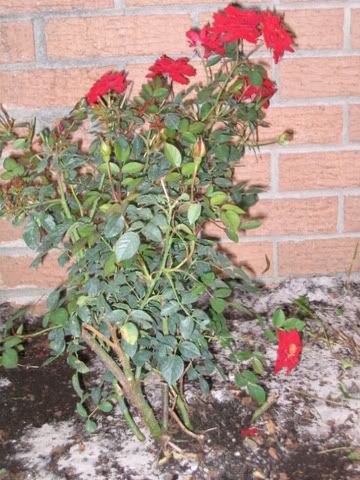 and a close up...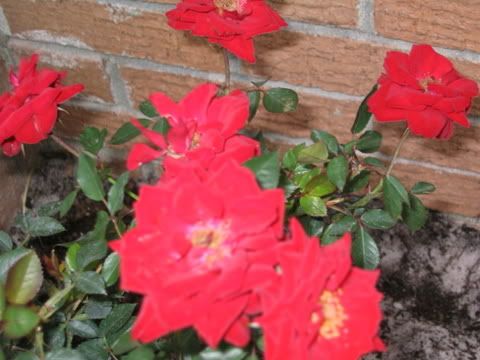 Sorry about the size- photobucket would not let resize after I moved them to a sub-folder...
* * * *


Bote and Babe's World
by Budman on May 10, 2006 05:28 AM
Very nice!! I can see the sand around the base of the plant, at first I thought maybe you had already used the epsom salts. I live in the Virginia Peidmont region and we have a lot of red clay soil. I have transplanted three rose bushes from my last residence to my new home that I just built last year. One did not make it and the other two are trying to come back. I have been babying them along with fertilizer (Miracle-gro for Roses) and they are in some good loamy soil that I provided. I am hesitant to add the Epsom salts because of the fact that they are struggling and was wondering what others might think about that......
by Tonya on May 11, 2006 01:27 PM
I am not sure...I am new to roses. My mom is great with just about everything...I'll ask her for ya! Good luck with the sick ones!

* * * *


Bote and Babe's World
by ChrisC-EIT on June 04, 2006 07:11 AM
I didn't want to start a new thread, but I had a rose growing question. I just bought a house that has some productive rose bushes but I want to move them. I do not want to wait until winter to do so.

So, I was considering pruning them back entirely (mind you, it's June 3rd, today), and then digging them out and moving them. I was curious to know if this essentially would kill them or if I could expect that they would survive. It seems like an odd question, I suppose, but I've looked all over and I understand that they need to be pruned back in the winter, and I figure that if I do that now, it'd be bad - I just don't know if it's bad in the "you-won't-have-blooms-for-the-rest-of-the-summer" kind of bad or bad in the "you're-killing-one-of-Gods-creatures" kind of bad. I'm not sure I want to keep them other than they are currently productive, and they are in the way of other plans. But, I figure if I can move them, and it won't kill them, I'll give it a try.

Thanks.
by Mrs.Bradley on June 04, 2006 08:08 AM
Hey Tonya!
nice rose bush, but did you know that if you took off those spent flowers, it would make more buds, as the plant is not using all of its energy to support the dying flowers.
I'm only a couple of years into growing roses too. theres lots to learn, but this year I am finding that it is all worth it! my roses are looking GREAT so far.knock on wood!!!!!!
* * * *

by joclyn on June 04, 2006 06:55 PM
chris, if you move them now, you stand a good chance of losing them. they go into shock really easy. cutting them back all the way would help them make the move easier. i'd recommend waiting tho!

i moved one of mine last month...i thought it was early enough in the season. wrong! it went into a bad shock. altho it's hanging in there, i'm still very close to losing it.

again, i'd say wait until after they are past the growing season and then move them.
by JV on June 05, 2006 04:07 AM
Chris like stated above if you move them now even with heavy pruneing you run a real danger of hurting them real bad. Also I use Epsom on all my plants about once a month. Use Bonemmeal,Bloodmeal on most everthing also use Rose food on al my Roses.
* * * *


Meet Clyde my Male Sugar Glider. Clyde says.
Keep it organic
GOD BLESS THE U.S.A.
Pray for our Troops!
by ChrisC-EIT on June 07, 2006 03:13 PM
JV-

There's another problem. My fiancee is a vegetarian and is mostly in charge of the garden - so no bloodmeal or bonemeal for the roses. Don't worry - I don't let her tell me I can't eat steak or fried chicken, but she's also attempting to create an entire organic garden. I wonder if the care for the roses would otherwise be complicated.

I plan to wait as long as I can before attempting any pruning or moving. I wish I would have thought of this back in October - I just didn't give much thought to keeping the bushes until this Spring after they've bloomed. One of the bushes has a fairly obvious disease - many of the leaves are spotted yellow, although much of the bush is fairly healthy, and yes, is blooming like crazy.

They've been on their own for over a year and although they're obviously not under any kind of direct care are apparently healthy and seemed to have flourished. They don't get any kind of water, either. It's strange, really, that they've done as well as they have. I'll attempt to take some pictures for posting so that I can give you a better idea of what I have here.

I really would like to keep them - there's a certain amount of sentiment that has blossomed (so to speak) for these, but I've never cared for roses before and am not sure I'll keep good enough care of the ones that I do have.
by JV on June 07, 2006 07:44 PM
Chris bonemeal and blood meal will not hurt your organic program I use it and am organic. I also make teas out of my Rose petals and put in salads. As for the vegetarian thing I don't know what her being a vegetarian has to do with the care of roses but ok. I use Hibiscus blooms in my tea also . I use no chemicals at all the organic people say to use these products but be your own judge good luck.
* * * *


Meet Clyde my Male Sugar Glider. Clyde says.
Keep it organic
GOD BLESS THE U.S.A.
Pray for our Troops!
by Tonya on June 08, 2006 09:38 AM
Mrs Bradley- Thanks for the info...my hubby told me that also. I now have aprox 30-40 blooms on this 2 foot plant!
* * * *


Bote and Babe's World
by joclyn on June 08, 2006 02:50 PM
chris, the spots on the rose leaves - are they black with yellow or just yellow?

'black spot' is a fungus and is very common to roses. the spots are black, yellow and/or black/yellow mixed. i don't know of any organic treatment.

i use ortho brand orthonex spray to treat the black spot. the spray also kills aphids (which love roses).
Similar discussions:
Search The Garden Helper: