Marking Iris rhyzomes for transplanting later on
Gardening Reference » Gardening in 2006
by Patty S on April 27, 2006 07:43 PM
I have several different colors of Bearded Iris in a long row (about 70'), along my property line, & would like to spread them out & mix them up this year, so I don't have the same colors all in clumps again next year. My problem is, HOW to mark them in a way that the marks won't be lost in the sun & the rain!
Last year I tried marking color codes on some of them with "permanent" El-Marko & Sharpie pens, but the Sun faded my marks out! I also tried marking some with colored string, but guess what?
Sun bleaches string, too!!
On a few that I remembered the colors of after the flowers were gone, I tied fabric RIBBON (which didn't fade) onto the bases, but since I'd lost the markers on the others, I managed to move only 4 plants to different locations!
I've got to do better than that this year, but that ribbon is pretty spendy stuff, & I have
hundreds
of Iris! I'm hoping that someone here will have a better idea for marking them.
While I'm here, I'll share this:
I'd been told that I had to wait until Iris started dieing back (3-4 months) before moving them or trimming the leaves back,
"because the plant's energy needs to run back down into the Rhizome."
...HOWEVER, the
The Garden Helper "How to" Guide
says,
"The best time to transplant Iris is 2-3 weeks after the finish of blooming"
, & also,
"Cut the leaves back to about 6-7 inches."
at the time of transplant.
(I'm confident that the information there is more accurate than what I've heard over the back fence, from well-meaning neighbors!)
* * * *


by Frisha on April 28, 2006 02:46 AM
I have some I need to move too so will be watching for what everyone says.

by Wrennie on April 28, 2006 04:45 AM
metal plant markers that you write leaving an indentation in the metal, fade free.
Take some pictures with 'landmarks' in them while they're blooming, ie a garden deoration, so you have a map.
Draw a map in a notebook, with grids marking which colors are where.
* * * *



Summer Camp '07, July 14th weekend, won't you join us?

summer camp thread 1,
2,
3,
4
by joclyn on April 28, 2006 10:48 AM
quote:

---

Originally posted by Frisha:
I have some I need to move too so will be watching for what everyone says.

---
ditto for me!! i've got to split mine out - they're desperately overcrowded!!!
use colored plastic twist-ties and attach to one of the leaves on each plant.
by Patty S on April 29, 2006 07:54 AM
Wrennie, Thanks for those suggestions! (I assume I can find the metal plant markers at WalMart.) I like the idea of the garden grid map & might just do that for some of my other garden beds.

In this case, with the Iris, I'm afraid that taking pictures probably wouldn't do much good. When they're growing in such profusion as this, the only landmarks I seem to have are
OTHER IRIS'S!!

(This is about 1/3 of the "row"!)
Joclyn, This is MY version of
"desperately overcrowded!!!"
... I sure hope you don't have as much work in store for you as I do! I don't know if anybody lives long enough to thin out a mess like this! (But they're sure pretty when they bloom, & they all seem to be pretty happy!)
Interesting, isn't it, that different colors bloom at different times! (I see the same thing happening with the Rhododendrons.) My white Iris with the purple edges bloomed last week, & now the deep purples are coming out. Next will be the Burgundy & the more mudane lavender ones... followed by the yellows, which seem to almost always wait until the other ones are nearly gone!

Happy gardening, my friends!

* * * *


by Deborah L. on April 29, 2006 08:27 AM
I enjoyed these posts about iris.
I have a question: Is the bearded iris the same thing as Dutch iris?
Mine has the upright part and the hanging down part, purple, with yellow "tongues".
I believe the upright part is called the standard and the hanging part the fall. Right ot wrong?
* * * *


by rogmee on April 29, 2006 02:46 PM
Trust "The Garden Helper". After you give them a "haircut" and move them they'll have enough time to actually re grow the foliage before frost comes.
by melcon6 on April 29, 2006 03:24 PM
If it were me and I really wanted to move them and sort by color I would do so at the tail end of the bloom, while you still see what color they are. I would dig 'em up, sort them in bins with a little soil, just mark the bin and cut the flowers right down. Iris are pretty hard to kill.
* * * *

HAPPY BIRTHDAY CINDY!!!!!!!
by Patty S on April 30, 2006 06:57 AM
Deborah, I believe that Dutch Iris has a skinnier blossom, as well as thinner leaves & stems, than a regular Bearded Iris. Dutch Iris come from bulbs, while Bearded Iris come from rhizomes.
Bearded Iris
Dutch Iris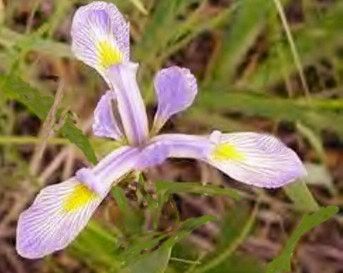 These are both growing in my yard ...although all my Bearded Iris run along my property line, as pictured earlier, while the Dutch Iris are in beds near the house, & bloom about a month later than the Bearded Iris.
As close as I've been able to come in identifying the smaller blossomed one was "Dutch Iris", but I'd appreciate knowing if anyone here has other information about it.
(It also fits the description of "Siberian Iris")
Your ID of Iris parts is correct as far as I know. Here's what I've got:
(I had to break off a petal to expose the inside of the blossom.)
Another good idea, Mel!

Thanks!
* * * *


by comfrey on April 30, 2006 12:40 PM
I has always moved Iris when I wanted to move them...Another thing I do before replanting, I inspect the root...cut off anything that doesn't look right, trim the tops (leaves) back to about 5-6 inches. Another thing I did with some transplants that were given to me which looked liked the roots were diseased, I cut off the bad parts then got a dish pan which I added some bleach to and water, I then soaked the roots for a few minutes in the diluted bleach water, then laid out to dry off in the air, when dry I replanted and I didn't loose any of them and all bloomed the next season. I have a bunch that I need to move also...maybe not quite as many as you have Patty, but they are over crowarded also and want to spread more color around the yard.
* * * *


by Bestofour on April 30, 2006 02:21 PM
Does anyone actually have a bed with the colors mixed up? I have 3 different colors, mixed them up when I thinned them out a few years ago (sent some to a few people on the Forum), but this year they are blooming in groups again. Go figure.
* * * *


http://www.picturetrail.com/bestofour
by joclyn on April 30, 2006 02:55 PM
eww, yeah, patty! your 'desperately overcrowded' DEFINITELY beats mine!!! lol!! i've just got 2 small (3 foot) areas that need spreading out!!

i can just picture that row in full bloom tho!!! it must look absolutely STUNNING!!!

and your explanation of the bearded vs dutch is pretty much correct. iirc, the siberian iris are smaller in size than the dutch...i bought some a couple years ago - they were in a pot and i never had a chance to get them in the bed for the following year so i ended up losing them...

bestof...i've seen that happen with other types of bulbs too. i can't remember what the explanation for it is - something with hormones or something excreted, i think, that ends up affecting the neighboring plants.
by Deborah L. on May 01, 2006 07:12 AM
Wow, Patty, thanks alot ! This really helped-now I know more than I did, which was zilch, LOL...
* * * *


by Patty S on May 05, 2006 09:51 AM
Deborah, my garden club went on a tour of a local garden yesterday, & they had Dutch Iris there. I think that seeing what they are
for sure,
helped me nail down the ones I have up in the yard.... (they ARE Dutch Iris.)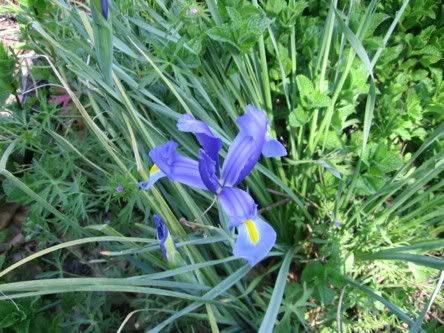 * * * *


by Patty S on May 23, 2006 08:35 AM
I was at my daughter's house yesterday & took pictures of some of her plants. She seems to have a leaning toward WHITE, as she has gorgeous white roses, & these tall white Siberian Iris.
There is a huge stand of these growing by the borrow pit at the side of the road in front of her house, that she doesn't want there, & she said that I can have them!
I'll wait for a few weeks after the blossoms are gone, & get them over here into my yard so I can enjoy them next year, without having to leave home!
My Dutch Iris are blooming now too, so I guess I should take pics of them before they're gone, & get them posted! (I also thought that I had posted pics here of my
"desperately overcrowded"
Bearded Iris when they were all in bloom, but I must have put them in a different thread. I think I'll update my earlier pic after I get my housework done today.)
* * * *


by Patty S on May 24, 2006 08:33 PM
As promised (but a day late), here are the photos of my 70 foot long Bearded Iris row in full bloom. The pictures were taken from each end of the row.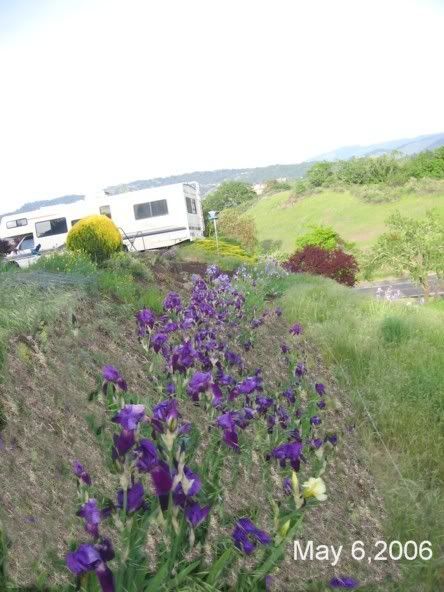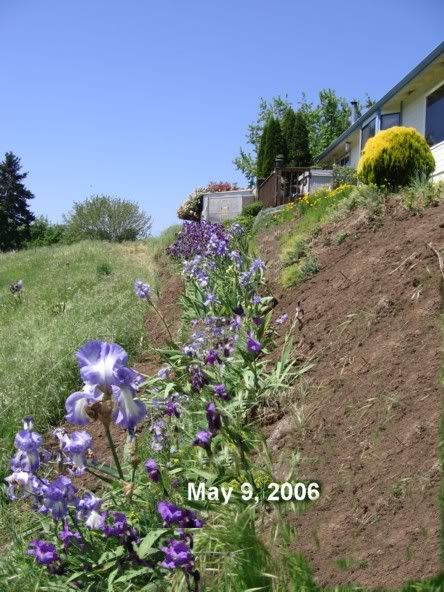 Not noticeable in these shots, are a few yellow ones here & there. (There are actually 6 different colors in the row.) There were a lot of yellow & a few mauve ones growing out in the field, & we dug them up & moved them to the row before the owner of the field mowed everything down. Sometime before fall I'll move some of the
American Classics
(The lavender & white ones) and the deep purple ones around, so the row will be mixed with the colors next year.
I solved my marking problem by using plastic "T markers" that poke into the ground next to the rhizomes AND by taking pictures of the row in succession. If I were to print them up, I could lay them end-to-end & have 1 long picture of the whole row. (I couldn't find the markers that Wrennie mentioned, so I used my engraving tool on the plastic T's... the weather is NOT going to wash that away!)

* * * *


by joclyn on May 25, 2006 06:28 AM
stunning, patty!!
Search The Garden Helper: