euphorbia
Gardening Reference » Gardening in 2005
by plants 'n pots on September 01, 2005 03:20 AM
Every once in a while, my grocery store puts some plants on clearance. This is usually after they have been left to dry out, and they are then watered in an attempt to get some kind of profit from them.
The other day I chanced upon this pretty healthy looking euphorbia lomi for 99 cents - how could I resist? The tag also calls it Somona.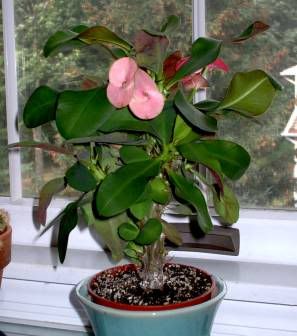 a different view: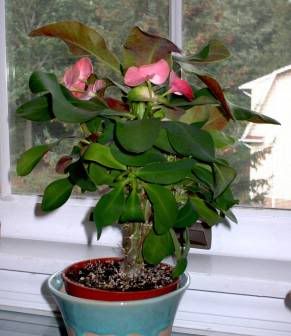 It looks like a crown of thorns, but much larger than the ones I have. Anyway, here in zone 6, it would have to be a houseplant. I was wondering if anyone can give me some info on this plant. It definitely perked up once I got it home and watered it thoroughly, but now I noticed that some of the smaller lower leaves are dropping off.
Thanks for any help... Lynne
* * * *


Lynne's knitting journal
"I'm spayed, declawed, and housebound - how's YOUR day going???"
by cinta on September 03, 2005 02:32 PM
That is a pretty plant. You found a good bargin.
I have a yellow and red. I keep them in the sunny window all winter and watered it once a week and they flowered non-stop.
This is my yellow after being outside all summer. Two years ago it was small.
* * * *
http://www.flickr.com/photos/audwoman/
If you want the rainbow you have to put up with the rain!!
by Shani on September 03, 2005 02:59 PM
I love barging plant, a lot of the time with a bit of love and care they can be revived.
* * * *
Shani

May the wind always be at your back
and your keel in the water
by plants 'n pots on September 04, 2005 08:34 AM
WOW Cinta - that's a really cool plant!
* * * *


Lynne's knitting journal
"I'm spayed, declawed, and housebound - how's YOUR day going???"
by tkhooper on September 05, 2005 05:39 AM
I just looked it up on the web and I love the idea of a house plant that loves to flower all the time that it is hot and sunny. I hope I can find the seeds or starter plant for those. Thank you for sharing. I think they are really cool.
Similar discussions:
Search The Garden Helper: