I hate to ask,but....
Gardening Reference » Gardening in 2005
by phoenix on August 06, 2005 01:35 AM
Should I repot these?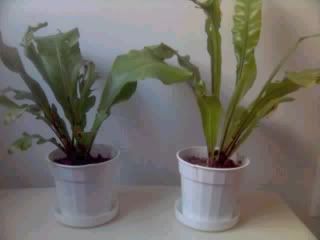 They are in 4" pots. They have been in them for quite some time now and they don't seem to be growing much.
* * * *


http://photobucket.com/albums/y203/lilpuppolo/
"If you want to talk bollocks and discuss the meaning of life,you're better off downing a bottle of whiskey.That way you're drunk by the time you start to take yourself seriously"
by Cricket on August 06, 2005 05:19 AM
quote:

---

Should I repot these?


---
Shhh, Will might hear you!

Oh well, as he doesn't seem to be around at the moment, I'll ask for him: Do the plants require watering more than every three days? If so, leave them alone!

Now just wait...these plants will probably be exceptions to the three-day watering rule and I'll have egg on my face - again.


by Cricket on August 06, 2005 05:21 AM
BTW Phoenix, what are those plants? The leaves look somewhat similar to a Cereus but different growth habit.
by Will Creed on August 08, 2005 08:31 AM
Phoenix,

Larger pots don't promote growth any more than larger shoes will make kids grow faster.

Your birds nest ferns need brighter light for longer periods through the day. Right on a north or east windowsill would be good. Once the roots fill up the pots, then more energy will be put into growing more foliage.

In case I wasn't clear, don't repot.
Search The Garden Helper: