Spring and Summer Flowers
Gardening Reference » Gardening in 2006
by Malishka007 on April 13, 2006 11:30 PM
Hello... I hope every one is doing great... my questions is to anyone who knows anything about spring and summer gardening... what are the flowers I can plant so that I would have them all year round... and when I can plant them... would first come daffodils and then tulips and then what? Need some help with that... thanks so much and I am looking forward to hearing more from you...!!!!

* * * *
Garden... is a window to a sould

by alankhart on April 14, 2006 01:25 AM
If you want perennials...(to name a few)...
Spring:
Daffodils, Tulips, Primroses, Creeping Phlox, Aurinia (Basket of Gold), Candytuft. Iris, Poppies
Summer:
Bellflower, Delphinium, Shasta Daisies, Penstemon, Garden Phlox, Coreopsis, Echinacea, Rudbeckia, Yarrow, Liatris, Salvia
Fall:
Aster, Mums, Sedum, Anemone, Goldenrod
Spring bulbs need to planted in the fall. other perennials can be planted just about anytime except winter. Make sure you water them well especially in the heat of summer.
Annuals can be used for constant color and blooming, too, but need to be planted each year. You can also use them in between perennials and as edging.
* * * *



by Malishka007 on April 14, 2006 03:52 AM
Thanks for much..it help a lot... I don't know much about plants except some need more water than the otehrs, shade or sun and whatever else... but the type of flowers to plans for different seasons is a little different. I appreciate your help

* * * *
Garden... is a window to a sould

by tkhooper on April 14, 2006 05:01 AM
Add snapdragons and Columbine to your spring fall list. I love them so they are definitely on my list.
Summer bulbs are Gladiolus if you plant them a group every two weeks through the spring then you will have some blooming throughout the summer.
* * * *


by netty on April 14, 2006 08:41 AM
2 of my favorites for spring are Bleeding Hearts and Lupins

* * * *


by cinta on April 15, 2006 12:41 PM
My favorite is daylilies. If you know nothing it makes you feel like you are the expert gardener.
You can get early early bloomers, early bloomers, mid bloomers, late bloomers and repeat bloomers.
With your Spring bulbs you will have flowers all spring and summer.
The big box stores, Lowes and HD have Asiatic and Oriental lilies out now and you can plant them now. They may off schedule this year but will bloom on time next year. Asiatic bloom in May-June and Oriental lilies bloom July-Aug. and the fragrance is beautiful.
* * * *
http://www.flickr.com/photos/audwoman/
If you want the rainbow you have to put up with the rain!!
by morninglori on April 18, 2006 09:24 AM
In the early spring, my moss phlox, daffodils, hyacinths, crocus and azaleas, irises and dogwoods are the first to bloom.

Then, in come the Clematis, Hardy Amaryllis, roses, marigolds, zinnias, columbines, peonies and oxalis.

By the time the heat gets here, the summer bloomers are flowering until fall, including chrysanthemums, salvia, rock rose, lantana, hardy hibiscus, butterfly bush, spirea, day lilies, cannas, hollyhocks,, etc.

For fall, you can have chrysanthemums, beauty berry/winter berry, Aster, japanese maples, roses again.etc.

Winter is for berries (youpon and the other hollies), pyracantha, winter berry, winter blooming camellias etc.

All of the above are perennial and hardy (or reseed). They will come back again and again (except for hollyhocks, which frequently have a two year lifespan). Hope that will get you started.
by porter57 on April 18, 2006 10:00 AM
i seem to have a major gap in my plantings
hyacyinths,crocus, muscari early
daffodils ,then tulips, and then i got nothin.
opps almost nothin ,bleeding hearts are now in bloom. hostas are also coming up real good .
that is right now.
next up i imagine will be the dahlias which are showing good growth. glads spears are poking up and i imagine it will be another month till they bloom,my only rose will flower before that , i think. i seeded lupines,red hot pokers.hollyhock,
morning glory,and columbine in various places and as it is my first time with these,i really dont know what to expect. im trying to establish a situation where something is always in bloom(along with trying to get hummingbirds to visit this place sooner and more often) this has been a weird spring here in st louis with a mild winter, an early hot spell,a very cold spell following,then a few days of really hot weather, followed by a (right now by the way)period of milder weather that is more in line with what we should have here this time of year. makes it hard to really get a grip on what to expect as far as having something blooming at all times.
so far the cannas and callas are still dormant(altho i think i got one calla peeking out).
the daffs are done and the tulips are almost all gone(got a few late riser tulips just going into flower) i really dont have any complaints... just wish i had something to come into bloom now and carry on for the next month or so till the rest comes in.
by morninglori on April 19, 2006 12:44 AM
St. Lou, huh? I used to live there (in vitro).
How about Clematis or hardy amaryllis (bulbs). I've had lots of luck with Texas Gold Columbine. It is absolutely breathtaking (about 2 1/2 feet tall and now 10 feet long). My moss phlox is just going out of bloom now, so that might be a nice choice for you. They cover like a pink carpet.
Here are some pix for ideas.
Wisteria -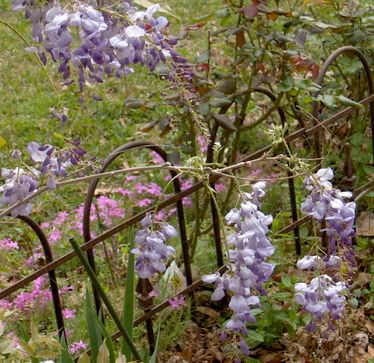 Moss Phlox -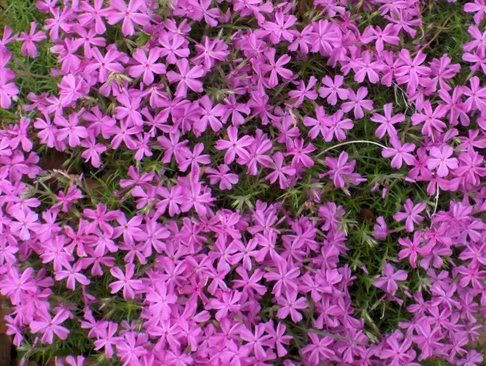 Winecups -
El Presidente Clematis -
Texas Gold columbine -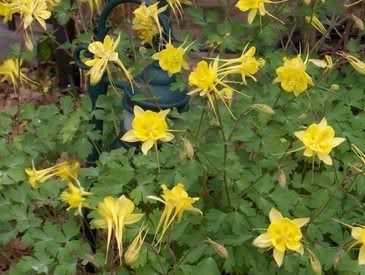 by tkhooper on April 19, 2006 02:17 AM
Those Texas Gold columbine are gorgeous. I don't supose you harvest the seeds? Hint hint hint lol.
My Miniature Snapdragons are getting ready to flower and so are my peonies. From what I understand there are two different peonies some bloom early spring and then some bloom in summer so it depends on what type you get when you can expect to see blooms on them. And the balsam are currently blooming.
I'm trying to do the same thing you are and have a four season garden. The columbine that I bought as plants last year have buds on them but I didn't have any luck direct sowing them. I think I may do the refrigerator method this year and see if that works for me.
* * * *


by morninglori on April 19, 2006 04:15 AM
Do you want some of the columbine seeds? I can collect the pods for you. They are starting to form their seed pods right now. You know, I didn't think about it, but that explains why I keep getting these puppies growing all the way down my flagstone path..the seeds must have washed. (hear that thunking? that is me slapping my head.)
by Pinkhorseofcourse on April 19, 2006 12:35 PM
Wow! Either you guys are much better gardeners than I, or it is the zone I am in.. I think it is 5... My hostas are JUST peeking up. My Columbine are up, but no buds yet. I have a little perennial garden. My problem is, I have lots of weeds and grass that grows in there too and half the time I don't know what is weeds and what is a plant!!

I have a few picks out there, but some of the plants are old and I have lost the picks along the way. Any idea why my stuff is so slow coming? Or is it due to my zone? Thanks!

by SpringFever on April 20, 2006 01:21 AM
Hey how did you get that wisteria go bloom? Did ya wack it with a bat? LOL
mine still hasn't bloomed in I think this is year 4,

* * * *


Tonight I am having friends for dinner... Hanibal Lector
My Album
by newbie gardener on April 23, 2006 02:21 PM
Hi Pinkhorseofcourse, my husband is in Dublin, Ohio and our hostas are coming up quite nice in the last two weeks or so, so it is probably the zone. I am in Toronto and our hostas here have just started to peek through.

I was visiting my husband last weekend and I know what you mean about weeds...they were everywhere!! I was a abit discouraged at first.

I too have that problem with "what is a weed"!! I do have a few that are so invasive... they have to be weeds and yes I just pull them out of the ground.

But last weekend I spotted a few things that I just did not know whether to pull it out of the ground or not. I did take some pictures once I figure out how to post them I will.
Search The Garden Helper: