HELP! HELP!! HELP!!!
Gardening Reference » Gardening in 2005
by hisgal2 on June 24, 2005 07:30 AM
First of all...I don't know what this plant is. I saved it from the clearance table at the green house. It was doing great here....bloomed and everything. It has fuzzy leaves like an african violet, but the flowers don't look like the AF. They are large and fluffy-ish.
I noticed 3 days ago that the new blooms' stems are kind of rottin and getting yucky and are dying before the bloom gets a chance to open. Here are pics.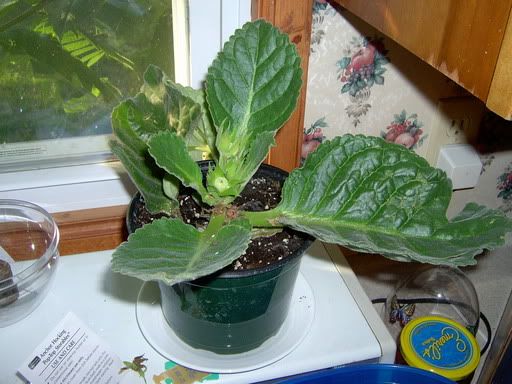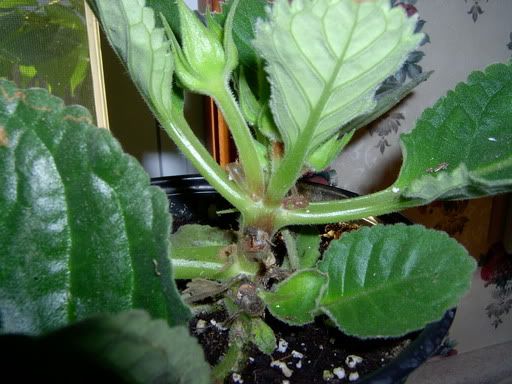 Here is the closest I could get. It really shows the brown color and texture that the bloom stems are getting.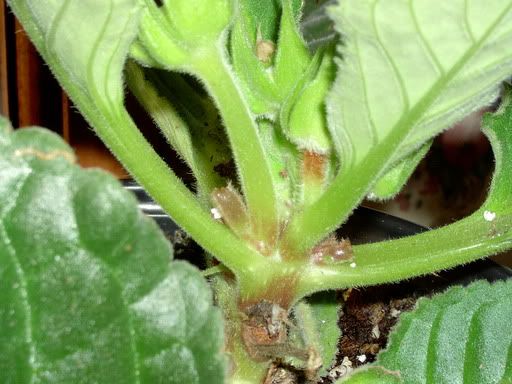 * * * *


by plants 'n pots on June 24, 2005 09:15 AM
Can't help you with the brown, Jenn, but it looks like a gloxinia I once had. Could that be it?
gloxinia pictures
Like african violets, they don't like to get water in the crown - could that be what happened and maybe they are rotting from it?
* * * *


Lynne's knitting journal
"I'm spayed, declawed, and housebound - how's YOUR day going???"
by hisgal2 on June 24, 2005 09:39 AM
yeah...but the flower have way more petals than the ones that I saw on that link. but i think your right about watering it from the bottom. I don't know why I didn't think about that. Will it recover?? What do i do???
* * * *


by plants 'n pots on June 24, 2005 06:42 PM
Sorry - don't know how to help you save it!

Mine lasted a year with one beautiful blooming period and then it just slipped quietly away...

* * * *


Lynne's knitting journal
"I'm spayed, declawed, and housebound - how's YOUR day going???"
by tkhooper on June 24, 2005 07:42 PM
I've never suceeded with an AV or a glox so I don't have any info either. I'm so sorry it looks like it would have been a beauty. I hope you find a way to save it.
* * * *


by hisgal2 on June 25, 2005 09:04 AM
it WAS a beauty!!!! That's why I'm soo sad! I got it for $1.99 on clearance and just had to have it. The first couple of weeks, it didn't mind the on top watering. Maybe I just started to water it too much? Cause originally, I was just watering it when the soil felt dry and then I started watering it every other day. Maybe I won't water it for a few days to see if it dries out a bit.
* * * *


by Will Creed on June 26, 2005 12:13 AM
Hi Jenn,

Gloxinias do best in warm temperatures. They stop growing in temps below 60 degrees. They require lots of very bright indirect light with a few hours of early or late day direct sun. Keep the soil evenly moist by watering thoroughly only when the top half-inch of soil is dry. Keep tightly potted for best growth and flowering.

I suspect keeping the soil may be part of the problem. Do let the soil dry out some between waterings.

In the fall, gloxinias need to go into a dormant period during which their leaves all die back. It prefers cool temps about 60 degrees from then until February. Keep it in a cool, dim place and do not water it all. In February, resume watering and place it in a bright location. Flowers usually appear from May to September.

Gloxinias can be propagated by leaf cuttings - something to keep in mind if it looks like it is not recovering.
by hisgal2 on June 26, 2005 10:24 AM
Thanks Will, I was hoping youd give me some info on this plant. It was sooooooo pretty and I just can't bare to look at it the way it is now.
* * * *


by Will Creed on June 26, 2005 11:44 AM
You're welcome, Jenn. Feel free to contact me directly at any time.

Will
Search The Garden Helper: