Starting plants in a greenhouse
Gardening Reference » Gardening in 2006
by slredmond on March 21, 2006 12:56 AM
OK - dumb questions time! Meet my new greenhouse thanks to eBay.com: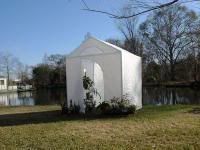 (Mine is clear vs. the white shown in the ad photo.)
It's about 6' x 6' square, 8' tall. I want to start a bunch of seeds, but I'm not sure if I can just plant up my flats and put them in the greenhouse. Do I need some kind of heater? Michigan weather is very unpredictable, especially this time of year - it can be 65 one day, then 18 degrees that night. Most of the time in the next week or so we should be in the mid 40s during the day.
Next question, besides seeds, can I start bare root stock and tubers in pots then transplant? For example, I have some daylilies, some cannas from last year, and I want to pick up some hostas from Sams. It's too early to put in the ground, but if I can get at least a six week start in the greenhouse I'd have some growth on them.
THANKS!
* * * *
Sandy R.
by weezie13 on March 21, 2006 01:04 AM
Sandy,

LOVE

LOVE

LOVE that greenhouse..
If you do a Forum search, type in Greenhouse,
and I think keep it to the Garden Chat or Vegetables section, you should get some our

posts on them...
I'm semi pressed for time, but there's some info on heating, and watching the weather reports, and stuff...
Mikestuff has one thread going too, he just got one, I think his header on the post is Some Assembly Required...
* * * *
Weezie
Don't forget to be kind to strangers. For some who have
done this have entertained angels without realizing it.
- Bible - Hebrews 13:2



http://photobucket.com/albums/y250/weezie13/
by alankhart on March 21, 2006 01:14 AM
I have an unheated greenhouse similar to yours. They only stay up to about 5 degrees warmer at night/early morning than the outside temp, so any seedling that can't withstand temps below about 30 degrees may die from the cold. I start my seeds indoors and then move them to the greenhouse when I know temps aren't going to fall much below freezing. If temps are really warm during the day I leave the door open as well as the vent for circulation, then close it before dundown so temps won't go down as fast inside the greenhouse.
You shouldn't have any problem potting up your daylilies, etc. and leaving them in the greenhouse. I potted up several bareroot perennials last month and they are doing great.
* * * *



by slredmond on March 21, 2006 02:21 AM
OK - thanks much Alan and Weezie. The greenhouse was $40 - plus $25 S&H. I love Mike's comment about spending a fortune to get $10 worth of fish! Hopefully in the long run this will pay off and be cheaper to get plants started than buying them all at retail. Now to find a heater with a thermostat! Off to Wally World and the clearance aisle!!

* * * *
Sandy R.

by AndreaJoy on March 25, 2006 01:28 AM
I am pretty new to planting seeds. I have done some flower planting. I was wondering if I could get any advise on planting my seeds that I purchased. I got Morning Glorys and sunflowers. I am going to try to get the morning glories to climb up the pillars on my front porch. I bought some peet pots and some miracle grow dirt. I am wondering about the water and what I can use to keep my cats out of them when I am at work. I was going to try to make a makeshift greenhouse to put on my dryer in the mud room. I would love to keep it outside but I am scared that it is too cold still.
by weezie13 on March 25, 2006 07:32 AM
A basic rule of thumb for planting seeds,
is about 2 times the depth/size of the seed it's self..
say something like a sunflower would be planted up to the
first knuckle/joint on your first finger...
morning glories, maybe to the tip of your fingernail...
*morning glories, LOVE warmmmmmmmmmmm soil...
so don't try to get them out before the soil warms up...*
and remember seeds when planted do not need a soil like
Miracle Grow with fertilizers in it,
or given fertilizers like a water soluable one,
as when the momma plant makes the seed,
she puts everything inside the seed that it needs grow,
until the second set of leaves or the first true leaves come out...
And Welcome by the way, we're very glad you found us!!!!







* * * *
Weezie
Don't forget to be kind to strangers. For some who have
done this have entertained angels without realizing it.
- Bible - Hebrews 13:2



http://photobucket.com/albums/y250/weezie13/
by FLOWERCHILD74 on April 03, 2006 11:12 AM
HMM..IM CONSIDDERING A GREENHOUSE FOR MY BACK YEAR..BUT KINDA CONFUSED ...AT THIS TIME IM WORKING FOR A NURSERY..AND I KINDA LIKE DOING WHAT IM DOING,AND WOULD LIKE TO DO SOMETHING FOR MYSELF...

* * * *
FLOWERCHILD74

by tkhooper on April 04, 2006 01:14 AM
Morning glories sprout quicker if you nick and then soak them overnight. Any seeds that floats rather than sinks I throw away since they usually don't germinate for me.
Good luck with your seeds.
* * * *


Search The Garden Helper: