gladioli
Gardening Reference » Gardening in 2006
by markr on March 15, 2006 08:42 AM
having grown glads for the first time last year,
im not sure that they will flower again this year?
my father said they will.
but others have told me that they dont for them,so they end up buying new every year.
i lifted and dried them once they had started to die, also i cut all the flower spikes so they didnt use up energy making seed.
they were well fed & watered.
so now ive gone out and bought another 70 just in case!
WHAT DO YOU THINK?
* * * *

Mark
by loz on March 15, 2006 11:01 AM
Oh yeh, they should...My moms comes up every year and she has never planted more!

by markr on March 16, 2006 07:00 AM
Thanks loz
hope they do,cant imagine why they dont for some!
well im sure lookin forward to see them flowering,
cant picture it though 130 of em,,,
still keep the girls happy!
* * * *

Mark
by tkhooper on March 16, 2006 10:52 PM
You know you have to let the leaves die on the plant so that while they are green they can absorb all the light energy. They use that to store up energy for the next years blooms. Or at least I think that's the way it goes. This is my second year with blooms. I leave mine in the ground but that's because I'm in a much warmer climate. I'm zone 7A. I actually had one of my bulbs have a baby last year which was great fun to watch it grow. You know if you do a succession of plantings you'll have a much longer bloom time. I only have 9 bulbs so I don't do that but some day I might.
* * * *


by alankhart on March 17, 2006 02:13 AM
I don't know what zone you are in but they are technically a zone 8 plant, but here in my zone 6b/7a yard they come back unless we have a really cold winter. There is, however, a hardy type that doesn't get as tall...about 2 ft. They are usually listed as hardy glads. Many people plant them every year in 2 week intervals so, as mentioned, they will have a succession of blooms throughout the season, and also have some for cutting. I would really like to see a photo of your 70 in bloom!
* * * *



by buzylady on March 17, 2006 03:14 AM
I had glads a long time ago. They didn't come back but, I didn't dig them up either. This year I'm going to try them in a large pot.
* * * *
buzz buzz buzz


http://s86.photobucket.com/albums/k103/Di_06/
by loz on March 17, 2006 03:47 AM
Hmmmm, I'm in zone 6b and my mom has never dug hers up...they aren't the hardy type either...just regular ones from the dollar general...they always come up. They are in sort of a sheltered spot though.

by markr on March 17, 2006 07:34 AM
well i checked all my old corms-bulbs yesterday,
they all look fine! one thing that stuck out was there size, they were at 3x as big as the new ones i got.
i will plant them the same as i did last year in a double row, then i will continue the rows with a new one called black knight,then follow on with the new mixed ones until i reach the end of my plot!
not sure how it will look, but if they do well i will try and get a photo of them and post them on here.
TK if you do lift them you will be surprised how many babies you will find underneath,some of mine had as many as 20. i never replanted them, i was told they take 2 years to flower.
* * * *

Mark
by Bestofour on March 19, 2006 08:01 AM
I have some that Cindy Lou sent me and I noticed they're coming back up.
* * * *


http://www.picturetrail.com/bestofour
by markr on March 19, 2006 08:20 AM
i wish i could keep mine in the ground, it gets too cold for them here.
hope they flower well for you!
* * * *

Mark
by tkhooper on March 19, 2006 08:32 AM
wow I read that they usually only produced one or two babies per year.
* * * *


by MissJamie on March 19, 2006 09:34 AM
quote:

---

just regular ones from the dollar general

---
I got some from walmart and can't wait to see them flower! I got 12 mixed colored bulbs (for just a buck!)and 6 pretty pink ones...do I plant them now?
* * * *

*~*Last night I played a blank tape at full blast. The mime next door went nuts.
*~*
http://www.imagestation.com/album/?id=2125497034
by markr on March 19, 2006 09:46 AM
TK dig one up and have a look underneath when there dormant.
MissJamie
i think there ok to plant once all risk of frost has passed, ive not planted mine yet its still cold.
* * * *

Mark
by buzylady on March 20, 2006 12:48 PM
What if I pot mine now. I bought a large pot at Ollie's.(and a cute angel/fairy for my pond)I wanted something tall for in it to go with other plants I haven't decided on yet. Could I do it now? Will they grow faster than the weather will get warm. I'm in z6. Probably won't get warm to stay till near the end of April.
Maybe I should wait a littlelonger

* * * *
buzz buzz buzz


http://s86.photobucket.com/albums/k103/Di_06/
by markr on March 21, 2006 08:44 AM
one thing you could do is cover the whole pot in bubble wrap.it would help you get a jump start!
* * * *

Mark
by HydroPinke on March 21, 2006 02:35 PM
I planted some glads a few weeks ago and they are starting to emerge already . I am so excited, they are going to mask the entrance to the unused crawl space to the property in front of me.
* * * *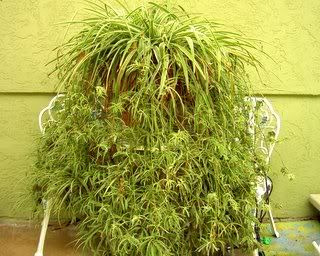 My First plant. Now Its A Monster!
by buzylady on March 23, 2006 01:59 AM
Bubble Wrap? If I keep it in the house do I still wrap it? That would really be an eye catcher.
* * * *
buzz buzz buzz


http://s86.photobucket.com/albums/k103/Di_06/
by markr on March 23, 2006 06:46 AM
sorry i thought you were going to put them outside

they will be fine indoors.
* * * *

Mark
Search The Garden Helper: