Shallow Roots or Not?
Gardening Reference » Gardening in 2005
by tkhooper on June 02, 2005 11:07 PM
I have a "Fack" coleus that I am thinking about adding to the interior landscape but I'm concerned about the root system. The ones that i've seen on other coleus are thin but they seem to go everywhere. Would I be endangering the other plants I have in the same planter?
by JV on June 04, 2005 05:20 AM
I always have my Coleus in pots by themselves. But this might work. CALLING WILL CREED!! Tammy what is a FACK Coleus ? I have raised a lot of Cloeus but never heard of this one but I guess there are a lot of things I never heard of but don't expect me to admit it.
Jimmy
* * * *


Meet Clyde my Male Sugar Glider. Clyde says.
Keep it organic
GOD BLESS THE U.S.A.
Pray for our Troops!
by tkhooper on June 04, 2005 05:51 AM
LOL,
I'll admit it I don't know nothing lol. It's the name of the type of coleus I have according to that wonderful coleus nursery I have in my favorites list.
www.rosydawngardens.com/images/coleus/fack.jpg
I am trying to do this so I don't hotlink. I hope this is right.
by Will Creed on June 04, 2005 04:40 PM
Hi Tammy,

Thanks for clarifying the variety name. I thought it was a typo or a way to get around the censors on this forum.LOL! I suggest that you call it 'Painted Nettle' so people don't get upset with your language. It is a beautiful Coleus, though.

Now what is your question? Are you planning to put this plant in the same planter with other plants and you are concerned that the Coleus roots will, be too invasive? If so, what are the planter dimensions, what are the other plant species (no 4-lettr words, please!), and what kind of light will they get? A photo would be even better.

If that is not the question, please straighten me out.

Will Creed
wcreed@HorticulturalHelp.com
by tkhooper on June 04, 2005 04:57 PM
Sorry Will I'm not exactly what one would call a "sensible woman lol".

Phoenix mentioned back a while ago the idea of an interior landscape. I love the idea and think I have the best place for it.

The planter will be 23 x 23 x 7 inches. At the center back will be a Jasmine 'Maid of Orleans' in a slightly raised mound. Then around the back and halfway up the side edges I'm thinking of miniature Snapdragons 'floral showers' 3 to 4 inches tall. A central water fountain 7 x 8 inch base 12 inches tall. And two of my dwarf evergreen groundcovers that I have never managed to identify. on each side of the fountain 6 to 12 inches tall They do have a root problem but I think I can keep them subdued since they are very hardy and don't mind being dug up. And then some kind of moss for the look of a lawn. And then a buddha statue for the front left and a path of green and blue glass beads moving from the buddha to the fountain. The coleus and caladium love the space where I plan to put the interior landscape so I'm thinking it is "light" alright.

I thought the coleus might be nice sitting next to the buddha. Kind of hanging over it or in the right front corner where nothing is currently planned.

I hope this is understandable. I sure do appreciate the help.

BTW do you know of a really tiny moss that would work for what I have planned?
by Will Creed on June 04, 2005 05:12 PM
Hi Tammy,

No need to apologize. Unsensible women are more fun anyway! LOL

You are very ambitious with your interior landscape.

What is your planter made out of? Does it have drainage holes?

Snapdragons are lousy indoor plants because they need a lot of light. The Coleus also benefits from direct sun all day long. Moss, on the other hand, must be protected from direct sun and needs constant dampness.

Ficus pumila is a good green ground cover that can tolerate more light.

Will
by tkhooper on June 04, 2005 05:37 PM
My apartment seems to be alittle weird light-wise. (Like the occupant lol.) The coleus doesn't really like it when it gets direct sun down here even for alittle while. I don't know why but it will start drooping almost immediately even though it is suppose to be sun-tolerant.
My snapdragons outside are in full shade and won't stop blooming. I was thinking maybe it is because they are miniatures? I know what I've read said they should have only bloomed about twice and then went dormant for the summer and then maybe bloomed again in the fall. But they don't seem to want to pay attention to the rules. (They may have learned that from me

.) Of course they are a taller miniature than the one I am planning for the interior landscape and I may loose out with those. Can you suggest a different plant that would create the tall thin "spear shaped" appearance I would like to have there? It doesn't need to bloom at all. The color scheme is blue and green in my livingroom so if it just stayed green that would be great.
Your going to think I am nuts! The foundation of the planter will be a wire basket used for underbed storage. From there it is pure juryrigged. Think think plastic cutting boards and you get the idea. Which is very normal for me lol. And yes it will have drainage I just hope that I don't get any dips or valleys in the bottom that might cause water to pool.
I was hoping I could get some of that moss that likes to grow on the retaining wall it is like maybe 1/8 of an inch tall if that. But it seems to like dry conditions and the other plants would not go for that at all.
by Will Creed on June 04, 2005 05:53 PM
This is getting too complicated for my feeble brain, Tammy!

Maybe it's best to just go for it. Sometimes the craziest things work!

Will

P.S. Are you related to Amy R.? LOL
by tkhooper on June 04, 2005 05:58 PM




Ok.
I don't think so. Does Amy come up with strange ideas too?
by Will Creed on June 04, 2005 06:27 PM
I didn't mean to make you cry. Now I feel bad.

Amy likes to break rules, although she does also have some strange ideas!

But I don't engage in gossip in public - only in private! LOL
by tkhooper on June 04, 2005 06:35 PM
OHHHHHHHHHHHHHH

I just found a floor lamp in my colors that handles a full spectum light whoooopie!!!!!

I ordered it too. This was cheaper than anything else I have seen. And it is adjustable so I can get just the amount of light I want.

It's ok, I am complicated along with confusing (or is that confused?) well maybe both lol.
by Cricket on June 04, 2005 09:03 PM
Tammy,
Mosses usually grow in damp shaded areas.
Moss Biology
I agree with Will that snapdragons are not appropriate for indoors. I'm surprised yours are blooming in shade but outdoor shade is still often much brighter than the light levels found in many homes. If you are looking for vertical spears and don't care about flowering, what about something like spike dracaenas?
Outdoors coleus easily crispy fry in hot direct summer sunlight but they make great indoor plants if they are located in bright light, which they need to retain their beautiful colors. Coleus become pale and leggy if they do not receive enough light.
I would suggest identifying your evergreen ground covers before tranferring them indoors, so you can determine their light requirements. What direction does the window you plan to place the planter face?
Let us know how it turns out.
by Will Creed on June 04, 2005 09:21 PM
Cricket,

Thanks for stepping in here and providing such good advice.

What is a spike Dracaena?

Will
by Cricket on June 04, 2005 09:33 PM
I don't know the botanical name but I will post a photo of spike Draceaena later.
by Will Creed on June 04, 2005 09:37 PM
Cricket,

I bet you're thinking Dracaena marginata. Why do Canadians make up such funny names?

Will
by Cricket on June 04, 2005 09:51 PM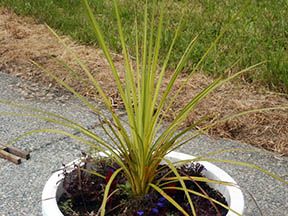 Although all local the garden centers use the name, it seems that "Spike Dracaena" is a misnomer and the plant might be Cordyline australis.
UBC Botanical Garden
by Will Creed on June 04, 2005 10:22 PM
Good work, Cricket. Cordyline was formerly categorized by botanists as Dracaena. Hence the confusion. This is sometimes called a Ti plant.

Will
by tkhooper on June 04, 2005 10:34 PM
Um, I don't explain things very well. Here is a drawing I did so I could picture the idea better. It is a very childish drawing but it gives the general idea I think.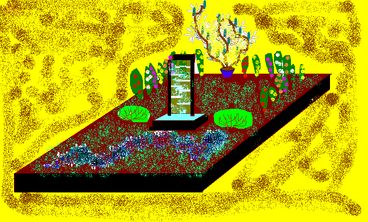 The things along the side with colored dots on them? That's the shape I would like to have.
Search The Garden Helper: