Meow!
Willy's Place » Wallpaper of the Day
by Bill on June 24, 2003 05:49 AM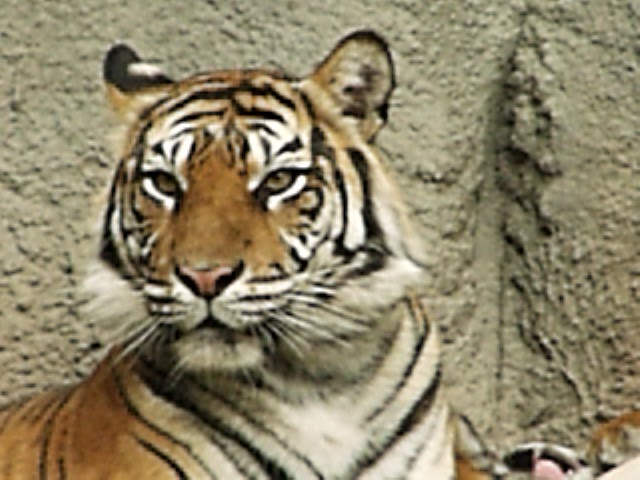 It's a little fuzzy.... my apologies...
I want one!




* * * *


by loz on June 24, 2003 06:52 AM
Now this is a beautiful animal......although I have to admit that I have been hunting them the past few days on the new african safari game that I got....lol

by catlover on June 24, 2003 10:10 AM
OOOOhhh this bengal tiger is beautiful. Would love to have one but he would probably rather have ME!
I go to the zoo etc. every couple years but I sure have mixed feeling about caging wild animals. Another pet peeve! Watch OUT!!!
He would feel real comfy in your bog area Bill. Look up, down, side to side, oooohhhh no behind you!

YUM! YUM!



Catlover
* * * *



by weezie13 on June 24, 2003 10:15 AM
I used to paint my face like that for work, back when I was young and cute!!!
Weezie

* * * *
Weezie
Don't forget to be kind to strangers. For some who have
done this have entertained angels without realizing it.
- Bible - Hebrews 13:2



http://photobucket.com/albums/y250/weezie13/
by Bill on June 24, 2003 10:39 AM
Just for the record... I am very happy to say that my zoo (been goin there since I was 3.... 20 years ago), The Woodland Park in Seattle, has very few cages left. The animals live in very nice "environments"
Woodland Park
* * * *

by UV428 on June 24, 2003 03:21 PM
I use to live in Seattle when I was young, around 1956-57. We use to go to the Zoo there at Woodland Park once a month. Everything was free then.
I remember a gorilla named Bobo.
Now you've made me relive those childhood emotions of the zoo and I shall go up there soon and do it again.
Thanks for the memories.

* * * *
I use to dance for a living but had to give it up.
The music kept throwing my rhythm off.

by Bill on June 24, 2003 03:53 PM
Bobo AND Fifi and Wide Awake our elephant..... Remember the train that we could ride all over heck for a dime? I want a train up here... just like that! Those were the good ol' days, eh?


* * * *

Similar discussions:
Search The Garden Helper: