Don't know what it is, don't know what's wrong with it.
Gardening Reference » Gardening in 2006
by Amber Petersen on January 12, 2006 02:16 AM
I told a friend about this site, and the next thing I know she's bringing a plant to me, asking if I can ask 'the plant people' what's wrong. I guess it has recently lost a whole bunch of leaves. Here's a picture. Can anyone help?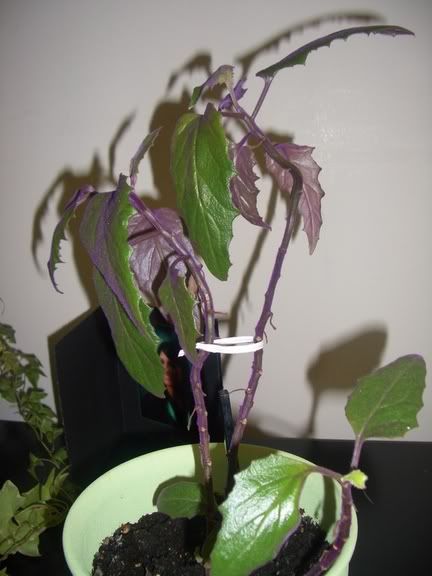 * * * *
Amber
by ServantsHeart2003 on January 12, 2006 05:21 AM
My guess is the soil is too damp/wet. I know what this is but cannot recall the name right now. It doesn't like wet soil though. Bonnie
* * * *
My Site
http://www.freewebs.com/froglver/
by RugbyHukr on January 12, 2006 05:30 AM
Gynura sarmentosa
* * * *

I love the sweet scents wafting in the breeze. I stop to admire the vibrant colors of all living things. And people think me odd. Then ODD I am!!!
http://community.webshots.com/user/flugnash
by margaret e. pell on January 12, 2006 06:02 AM
Ah, yes, gynura aurantiaca v. Sarmentosa, AKA purple passion plant. It likes sun and even moisture without ever being soggy. They're nice. The leaves will root. Stem cuttings will root. You a/o your friend can have as many as you want.
* * * *

may God bless the WHOLE world!
by Amber Petersen on January 13, 2006 12:40 AM
So if we dry out the soil a bit do you think it will put on a few more leaves?
* * * *
Amber
by Amber Petersen on January 28, 2006 01:50 AM
How should I root this plant? Should I put it in water or dip it in some hormone?
* * * *
Amber
by ShirlS on January 28, 2006 01:55 AM
Amber
You just take cuttings and put them into water ( remove the bottom leaves) you should have roots in no time. This is a very easy plant to root. My new Kitty just recently decided mine was her new toy. She pulled pieces up by the roots and played cat and mouse with it. I cut the bad bits off and stuck them into water, Viola! You can also pinch that leggy growth back, to encourage bushing of the plant.
* * * *
Do not follow where the path may lead. Go instead where there is no path and leave a trail.
Ralph Waldo Emerson
by Bill on January 28, 2006 01:58 AM
Purple Passion Care
* * * *

by Andi on January 29, 2006 09:48 AM
I had one of these plants years ago and gave it to my Mother. They thrive in bright light. Without it they become stalky or leggy. I also found with proper lighting the more brilliant the color. Good luck. Andi
Search The Garden Helper: