Grandmas Recipe for Rolled Sugar Cookies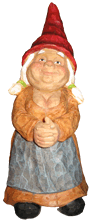 Ingredients for Rolled Sugar Cookies
1/2 c Butter
1/2 c Sugar
1 tsp Vanilla Extract
1 Egg
2 c Flour
2 tsp Baking Powder
Preparing your Sugar Cookies
Preheat oven to 375° F.
Cream together the margarine, sugar, vanilla and egg until light and fluffy.
Add the flour and baking powder.
Blend until well mixed.
Chill the dough for 2 hours (or overnight).
Roll out on a lightly-floured surface until 1/8-inch thick.
Cut with a cookie cutter.
Place on an ungreased baking sheet.
Bake in a 375-degree oven until lightly browned, about 10 minutes.
Cool before storing.
Search The Garden Helper: