Grandmas Recipe for Snickerdoodle Cookies
Ingredients for Snickerdoodles
1 cup Butter or margarine
3/4 cup + 1 Tbs. Sugar
1 3/4 cup Flour; all-purpose
2 tsp. Cinnamon
1/2 tsp. Salt (optional)
3/4 cup Brown sugar, packed
2 Eggs
2 cups Uncooked oats
1 tsp. Baking soda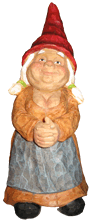 Preparing your Snickerdoodles
Heat oven to 375° F.
Grease cookie sheet.
In large bowl, beat together butter, brown sugar and
3/4 cup granulated sugar until light and fluffy.
Add eggs; mix well.
In medium bowl, combine flour, oats, 1 t cinnamon, soda and salt.
Add to sugar mixture; mix well.
Drop by rounded teaspoonfuls onto prepared cookie sheet.
In small bowl, combine remaining 1 T sugar and 1 t cinnamon;
Sprinkle lightly over each cookie.
Bake 8-10 minutes.
Cool 1 minute on cookie sheet;
Remove to wire cooling rack.
Search The Garden Helper: