Grandmas Recipe for Christmas Rosette Cookies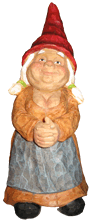 Ingredients for Christmas Rosettes
2 Eggs
1 tsp. Sugar
1 cup Milk
1 cup Flour
Preparing your Rosettes
Beat eggs.
Add sugar.
Add milk and flour alternately.
Heat iron in oil preheated to about 350° F.
Dip heated iron up to 3/4 depth of iron in batter.
Quickly immerse in oil.
Rosette will release from iron.
Turn over.
Remove when delicately browned.
Drain on paper towel.
Dip in granulated sugar, melted chocolate or other topping.
Attention!!
You may need to add more flour if batter slips off iron. Make sure iron is sufficiently hot!
Search The Garden Helper: