Grandmas Recipe for Striped Ribbon Cookies
Ingredients for Striped Ribbon Cookies
1 1/2 cup flour
1 tsp.baking powder
1/4 tsp.salt
1/2 cup shortening
1/2 cup sugar
1/2 tsp. vanilla
1 egg beaten
1 oz. chocolate..melted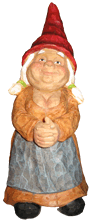 Preparing your Ribbon Cookies
Preheat oven to 400° .
Mix and sift flour, baking powder and salt
Cream together shortening and sugar until light and fluffy
Add vanilla and egg
Add flour mixture to creamed mixture
Divide dough into 2 parts. Add melted chocolate to one part.
Wrap each portion in wax paper and chill until firm.
Pat dough in alternate layers in a small rectangular pan
Chill until firm
Cut into 1/8 inch slices
Bake on ungreased cookie sheet in hot oven (400° F) for 6-8 minutes.
Search The Garden Helper: