Grandmas Recipe for Soft Raisin Cookies
Ingredients for Soft Raisin Cookies
1 cup Butter, softened
3/4 cup Packed brown sugar
1/2 cup Granulated sugar
2 Eggs
1 1/2 tsp. Vanilla
3 cup All-purpose Flour
1/2 cup Wheat germ
2 tsp. Baking Powder
3/4 tsp. Baking Soda
1/2 tsp. Salt
1/2 tsp. Nutmeg
1/2 cup Milk
1 cup Raisins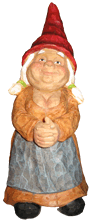 Preparing your Raisin Cookies
Preheat oven to 350°
Beat butter, sugars, eggs and vanilla in large mixer bowl.
Combine flour, wheat germ, baking powder, baking soda, salt and nutmeg in medium bowl.
Add to butter mixture alternately with milk, mixing well after each addition.
Stir in raisins.
Drop dough by teaspoonfuls, 2" apart, onto ungreased cookie sheets.
Bake in 350°F. oven 10-12 minutes or until light brown.
Immediately remove to wire racks to cool.
Search The Garden Helper: