The Recipe for Neiman Marcus Popovers
Neiman Marcus Popover Ingredients
6 eggs
3 1/2 cups milk
4 cups all-purpose flour
1 1/2 teaspoons salt
1 teaspoon baking powder
Preparing your Popovers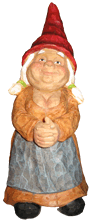 Preheat oven to 450° F.
While eggs are still in shells, warm them to room temperature by running hot water over them for three to four minutes.
Heat the milk until it is warm to the touch.
Mix flour, salt and baking powder together in a large bowl.
Beat the eggs at high speed until foamy and pale in color (about three minutes).
Stir in the warm milk at low speed.
Gradually add the flour mixture to the beaten eggs at low speed.
Beat for two minutes on medium speed. Let the batter rest for one hour.
Spray (heavily) a 12-cup, Teflon-lined popover tin with nonstick cooking spray (such as Pam).
Fill cups almost to the top with batter.
Place popover tin on a cookie sheet.
Bake for 15 minutes at 450° F, then reduce heat to 375° F and bake for an additional 30 to 35 minutes. Popovers should be a deep golden brown on the outside and airy on the inside.
Serve hot with strawberry butter.
Makes 12 popovers.
Search The Garden Helper: