Willy's Own Recipe for Meaty Meatloaf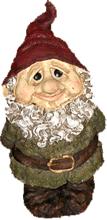 Meaty Meatloaf Ingredients
2 lbs. lean ground beef
1 lb. country style sausage
Three eggs
1/3 cup of barbecue sauce
4 tbsp. catsup
1 lb. medium cheddar cheese cuts into one half inch cubes
1 small to medium onion coarsely chopped
1 small can sliced mushrooms
1/2 tablespoon salt
1/4 teaspoon pepper
Preparing your Meatloaf
Preheat oven to 325° F.
Blend all ingredients thoroughly.
(For best results mixing should be done with the hands.)
Form into loaf shape in a large roasting pan.
Paint a liberal glaze of barbecue sauce over the entire loaf.
Re-glaze occasionally while baking
Bake for one-and-a-half hours at 325 degrees F.
Allow meatloaf to set for 10-15 minutes before slicing.
While this may seem like a lot of meat loaf, trust me, it will all quickly disappear!
Search The Garden Helper: