Home Made Dog Biscuits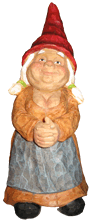 Ingredients for Grandma's Dog Cookies
1 cup cornmeal
3 1/2 cups whole-wheat flour
1/2 tablespoon garlic powder
4 tablespoons instant soup stock mix (beef, chicken or vegetable)
4 tablespoons bacon bits
3/4 cup vegetable oil
1 1/3 cup water (approx)
Preparing your Dog Cookies
Preheat oven to 350° F
Blend all ingredients thoroughly.
Roll mixture 1/4 inch thick onto floured cutting board or other smooth surface.
Cut to desired shapes with cookies cutters or a knife. Be creative!
Bake for approx 35 - 45 minutes, basting lightly with meat or bacon drippings.
Cool thoroughly before serving.
WOOF!
Search The Garden Helper: