Grandma's Blueberry Muffin Recipe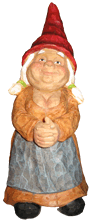 Ingredients for Blueberry Muffins
1/4 cup butter
2 eggs
1/2 tsp. salt
1 c. sugar
2 c. flour
2 tsp. baking powder
1 tsp. vanilla
One-half cup milk
2 c. fresh or frozen blueberries
Preparing your Blueberry Muffins
Preheat oven to 350° F.
Grease and flour your muffin pan, or use paper muffin liners.
Beat together butter, eggs, salt, and sugar.
Mix flour with baking powder and sift into first mixture, alternating with milk.
Blend in vanilla.
Add blueberries.
Pour into muffin pan and bake for 25 minutes.
Search The Garden Helper: