Recipe for Blueberry Decadence with Blueberry Sauce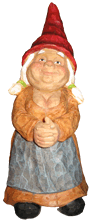 Blueberry Decadence
Ingredients
2 pkg. cream cheese (8 oz.)
1/2 cup sugar
4 egg yolks
2 tbsp. heavy cream
2 tsp. vanilla
Preparations
Beat cream cheese with electric mixer until very smooth.
Beat in sugar, egg yolks, cream and vanilla until mixture is very thick.
Pour into serving dish and chill.
Top with blueberry sauce.
Blueberry Sauce
Ingredients
2 tsp. cornstarch
1 tbsp. water
1/4 cup sugar
1/3 cup water
1/8 tsp. salt
2 c. fresh or frozen blueberries
Preparations
In a saucepan, blend the cornstarch and 1 tbsp. water.
Add sugar, salt, and remaining water.
Cook over low heat until clear and slightly thickened, stirring constantly.
Add blueberries and boil for two or three minutes.
May be used hot or cold, over ice cream, cakes, puddings, French toast, waffles, pancakes...
Search The Garden Helper: