Grandma's Recipe for Banana Nut Bread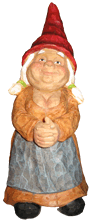 Ingredients for Banana Nut Bread
1/2 cup butter
1 1/2 cup granulated sugar
2 ripe bananas
2 eggs
4 tbsp. buttermilk
1 tsp. vanilla
1 1/2 cup flour
1 cup chopped nuts
1 tsp. baking soda
Preparing your Banana Nut Bread
Preheat oven to 325°.
Grease and floor 3x5x9 inch bread pan.
Blend sugar and butter together in a large bowl.
Mash bananas to a fine pulp, and add to sugar mixture.
Beat eggs and add to mixture.
Add buttermilk and baking soda.
Beat well.
Add vanilla, flour and nuts.
Beat well.
Pour into bread pan.
Bake for 35 to 45 minutes, until top springs back when gently pressed.
Search The Garden Helper: