How to Grow and Care for Your Chinese Lantern Plant
Physalis alkekengi






The Chinese Lantern Plant is sometimes referred to as a Winter Cherry.
It produces small white flowers in early summer which are followed by vivid orange-red,
papery seed pods that resemble Chinese paper lanterns.
The fruiting stems can be cut and used in flower arrangements or dried.
If left on the plant, the orange skin sheds to reveal a lacy frame surrounding a bright red berry.
Chinese Lanterns are native to southern Europe and Asia.
They are hardy in USDA zones 5-10

Growing Requirements for Chinese Lantern Plants

Chinese Lantern Plants should be planted two feet apart, in full sun, with some protection from the hottest afternoon sun.
They prefer moist, rich soil but tend to become invasive if they grow in conditions that are too good.
Their spread can be controlled somewhat by planting them in light, poor soil, or they can be grown as an annual.
Chinese Lantern Plants grow extremely well in containers, but most homes lack sufficient light to grow them as a House Plant

Propagating Chinese Lantern Plants

Chinese Lantern plants spread by rhizomes that can be easily cut and divided.
Chinese Lantern seeds require light for germination, so do not cover them!
In most zones, Physalis seeds should sown directly into the garden in late spring,
after all danger of frost has passed.
For seed sowing indoors, keep the planting medium at 70°-75°. for germination in 20-25 days
Chinese Lantern Plant
Physalis alkekengi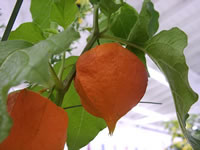 Search The Garden Helper: