How to Grow and Care for Floss Flowers
Ageratum houstonianum













The Floss Flower is best known for its furry mounds of long lasting blue flowers, but you can occasionally find them in white, red, or pink.
Ageratum plants vary in size depending on the species, and range from 6-24 inches tall and up to 12 inches wide.

Growing Requirements for Floss Flower Plants

The Floss Flower is an annual plant, native to Mexico.
They are great plants for containers or for mass plantings in your flower beds, or as border plants.
Floss Flowers can be grown in full sun except in very hot climates,
where it should be planted in partial shade.

Floss Flowers dislike drying out, so regular deep watering is essential.
Once established, feed monthly with a balanced 10-10-10 fertilizer
Plant Floss Flowers 6"-12" apart in the garden any time after all danger of frost has passed.

Pinch back new growth on young plants to encourage them to branch out.
Be sure to remove spent blooms regularly to induce continued flowers.
Usually the plants will not be disturbed by pests, especially if grown within the proper environment.

Growing Ageratum from seed

Sow Ageratum seeds indoors 6-8 weeks before your last frost.
Floss Flower seeds are very small and require light for germination so
DO NOT COVER THEM!
Keep the temperature within the growing medium at 70°-75°
Germination will take place within 5-10 days.
Floss Flower
Ageratum houstonianum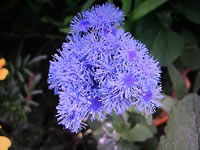 Search The Garden Helper: